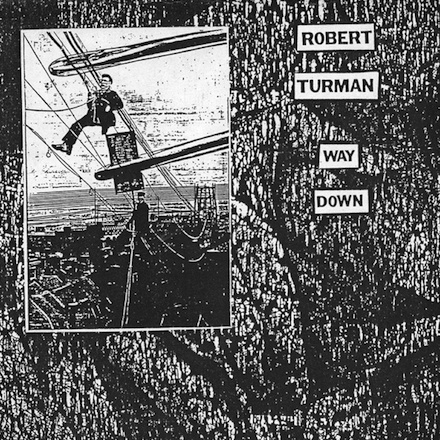 B​.​F​.​E.18 – ROBERT TURMAN "Way Down" LP (Sold Out)
B.F.E 18 – 400 copies
Agotado / Sold Out

---
"Turman´s contribution to the industrial and synth wave underground in the late 1970s and 80s was unique and substantial. He first rose to prominence as part of NON, collaborating with Boyd Rice on the classic 1977 single Mode of Infection/'Knife Ladder, before leaving to pursue his own more expansive solo vision.
Turman released a number of cassettes over the course of the 80s, drawing on a wide range of experimental techniques. On Way Down, first released on Actual Tapes in 1987, he combined the psych noisy industrial drone aesthetic he was best known for with a spry, danceable minimal synth sound, albeit one fleshed out with guitars, pianos, tape loops and samples. Cold, but not too dark, with a reliance on melody not expected from this area of music. Its a great record, murky as hell but also engaging and accessible. Robert Turman is one of the most underrated figures to come out of industrial musics earliest days. Way Down is a cold 80's freak-out." Elvis Von Doom
Clear vinyl
……………………………………………………………………………………………….
"Quizás una de las figuras más ocultas de la primera escena industrial, la que va de finales de los 70 a comienzos de los 80.
Puede que su contribución fuera consustancial y siga oculta, aunque siempre que se le nombre salga a relucir su contribución al primer single de NON Mode Of Infection/Knife Leader junto a Boyd Rice. Tarea que más tarde expandiría alumbrando su propia visión.
En plena expansión del formato cassete Turman grabó muchas de ellas experimentando con diversas técnicas, pero es en "Way Down" ( publicado originalmente en Actual Tapes en 1987) donde la combinación de su drone psicodelico industrial, siempre alumbrando flashes de melodías color purpura, se combina con loops y ritmos propios del minimal wave.
Así que "Way Down" es un punto de fuga entre la aridez de las primera escena industrial, el minimal wave y el synth pop, quizás cercano a lo que Cabaret Voltaire grabarían en su etapa en Virgin, pero sin el acento funk y electro de los de Sheffield, o cercano a al material más psicodelico de Severed Heads. "Way Down" es un gélido Freak-Out!!!"
Elvis Von Doom