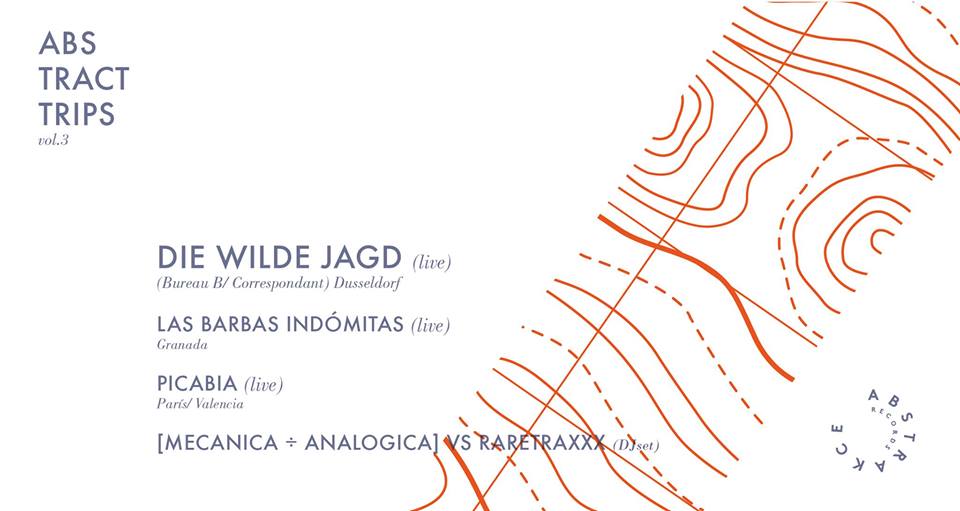 Die Wilde Jagd / Abstract trips Vol. III
Abstract Trips vol. 3
Abstract trips es un ciclo de conciertos organizado por Abstrakce Records en forma de viajes mentales a lugares desconocidos.
En esta tercera edición los principales encargados de mesmerizarnos serán Die Wilde Jagd. Una batería en clave motorik sirve como ritmo hipnótico de base sobre el que Sebastian Lee Philipp añade capas de sonidos espaciales y extraños de sintetizadores analógicos y guitarras. El resultado es una amalgama sónica hipnótica con toques de NEU!, Kraftwerk o DAF. Tras un par de singles y un LP en el mítico sello Bureau B acaban de sacar nuevo EP en Correspondant, el sello de Jennifer Cardini, con remezcla de Factory Floor incluida.
Probablemente no vuelva a haber otra oportunidad de ver algo así en un lugar como La Residencia y en breve empezaremos a ver su nombre en carteles de festivales. Acaban de confirmarlos para el próximo Liverpool Psych Fest.
https://soundcloud.com/diewildejagd
Abriendo la noche tendremos dos propuestas en clave de electrónica experimental orgánica:
Las Barbas indómitas es el proyecto personal de Enrique del Castillo, músico nacido en Jaén, basado en la experimentación, la melodía y la hipnosis, utilizando instrumentos analógicos y de fabricación propia. Ha estado en bandas como Chin Yi o +++ ( tres cruces).
https://lasbarbasindomitas.bandcamp.com/
"Picabia", multi-instrumentista nacido en Paris, presenta un proyecto electroacústico influenciado por la búsqueda espiritual de Pharoah Sanders y Terry Riley, las experimentaciones timbrales del espectralismo y los ritmos sincopados de las tradiciones centroafricanas entre otros. Larry Knobo le acompañará con sus visuales.
https://soundcloud.com/picassiette
Después de los conciertos pinchada de lujo a cargo de [MECANICA ÷ ANALOGICA] vs RARETRAXXX, que prometen una selección de música electrónica de eclecticismo bien entendido en la que tiene pinta de ser una de esas raras y míticas pinchadas en La Residencia.
————————–—-
Abstract trips vol. 3
Abstract trips is a series of gigs organized by Abstrakce Records. A mental travel to unknown places.
In this third edition Die Wilde Jagd will be in chargue for mesmerizing us. Drums played in motorik key as a hypnotic base rhythm on which Sebastian Lee Philipp adds layers of spatial and strang sounds from analog synthesizers and guitars. The result is a hypnotic sonic amalgam with touches from NEU !, Kraftwerk or DAF. After a couple of singles and one LP in the legendary label Bureau B they just released new EP in Correspondant, Jennifer Cardini´s label, with Factory Floor remix included. Probably there won't be another chance to see something like this in a place like La Residencia and soon we´ll see their name on festival posters. In fact they are playing on the next Liverpool Psych Fest.
https://soundcloud.com/diewildejagd
Opening the evening we will have two proposals in the key of experimental organic electronics.
Las barbas Indómitas is the personal project of Enrique del Castillo, a musician born in Jaén, based on experimentation, melody and hypnosis, using analog instruments, some of his own production. He has played in bands like Chin Yi or +++ ( tres cruces)
https://lasbarbasindomitas.bandcamp.com/
"Picabia", a multi-instrumentalist born in Paris, presents an electro-acoustic project influenced by the spiritual search of Pharoah Sanders and Terry Riley, the timbral experiments of spectralism and the syncopated rhythms of the Central African traditions, among others. Larry Knobo will do the visuals.
https://soundcloud.com/picassiette
After the live gigs we'll have luxury djing by [MECANICA ÷ ANALOGICA] vs RARETRAXXX, two of the best DJ collectives in the city that promise an amazing selection of electronic music, well-understood eclecticism in what looks like one of those mythic and rare DJ nights at La Residencia.