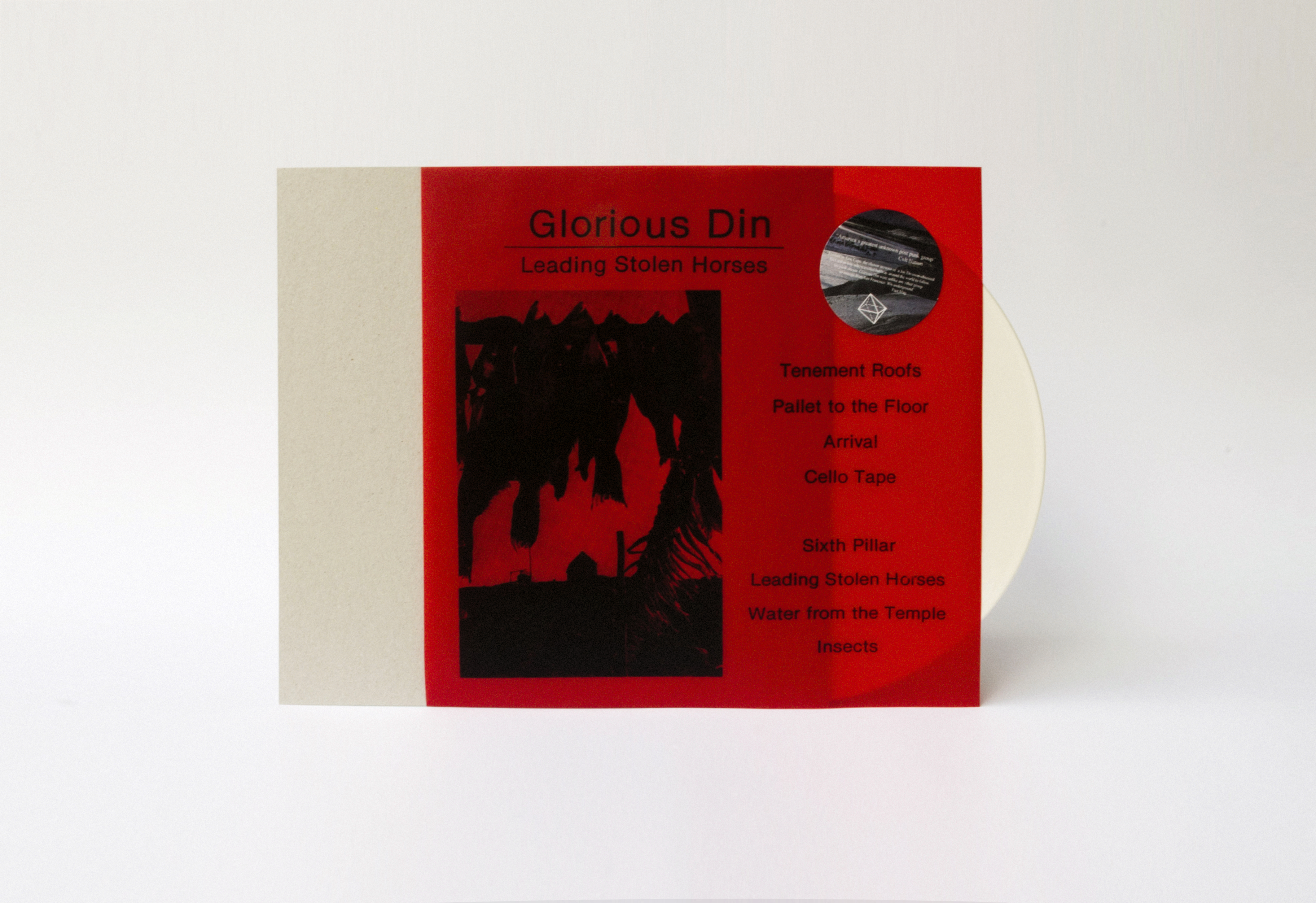 B.F.E.40 – GLORIOUS DIN "Leading Stolen Horses" Lp (Sold Out)
B.F.E.40 – GLORIOUS DIN "Leading Stolen Horses" Lp
300 copies (Sold Out)
________________________________________________________________
"Fronted by an intense singer with an oblique songbook and a mysterious past, Glorious Din were unlike any other group to emerge from San Francisco's '80s underground. David Katz tells the story of Eric Cope, the chosen persona of a Joy Division-obsessed Sri Lankan boy who travelled halfway around the world to follow his punk dream."
www.factmag.com/2016/06/08/glorious-din-eric-cope/
"One of the true lost gems of West Coast gothic postpunk, this 1985 release was the first for the band led by Sri Lankan expat singer-songwriter Eric Cope. Taking the darker moments of Joy Division as a starting point but leaving behind the industrial angst and fury for a rich and soulful melancholy that seamlessly blends first and third world cultures, they built something else entirely with insistent tribal rhythms, atmospheric guitar work, and Erics ghostly and desolate vocals, all with fine recording and production." –Insight.
"One of the best shows I went to in San Francisco during 1984 was the Glorious Din & Trial gig. This show really changed my life & made realize that I had to follow my dreams. Both of these bands were local bands, but they had created this killer post-punk sound that could hold its own with any band from anywhere. Around this time, Glorious Din released their classic album Leading Stolen Horses. This album is a post-punk gem that many people have never heard – trust me, after one listen you will be hooked. Every song on Leading Stolen Horses will touch your spirit in some way. I cant front, their singer Eric Cope could be compared to Ian Curtis, but honestly to me he had his own twisted vocal delivery. Glorious Din songs had these rad tribal drums that cascaded around your skull & then waltzed with your brain cells. Whats strange is that when I was younger, I believed this album gave me intelligence – with each listen, I learned more about my being.The guitar licks on this album are catchy & eternal, which puts you in a transcendental state. Their song Cello Tape shows that band was on a plane of their own. Search out this rad band Glorious Din & allow them to paint your world grey" – Sean Reveron, Cvltnation.com.
https://pitchfork.com/features/profile/the-surreal-life-of-black-dog-bone-founder-of-the-legendary-rap-magazine-murder-dog/?mbid=social_twitter
Edition of 300 copies on white vinyl. Remastered in Sountes Studio
https://www.discogs.com/Glorious-Din-Leading-Stolen-Horses/release/10703287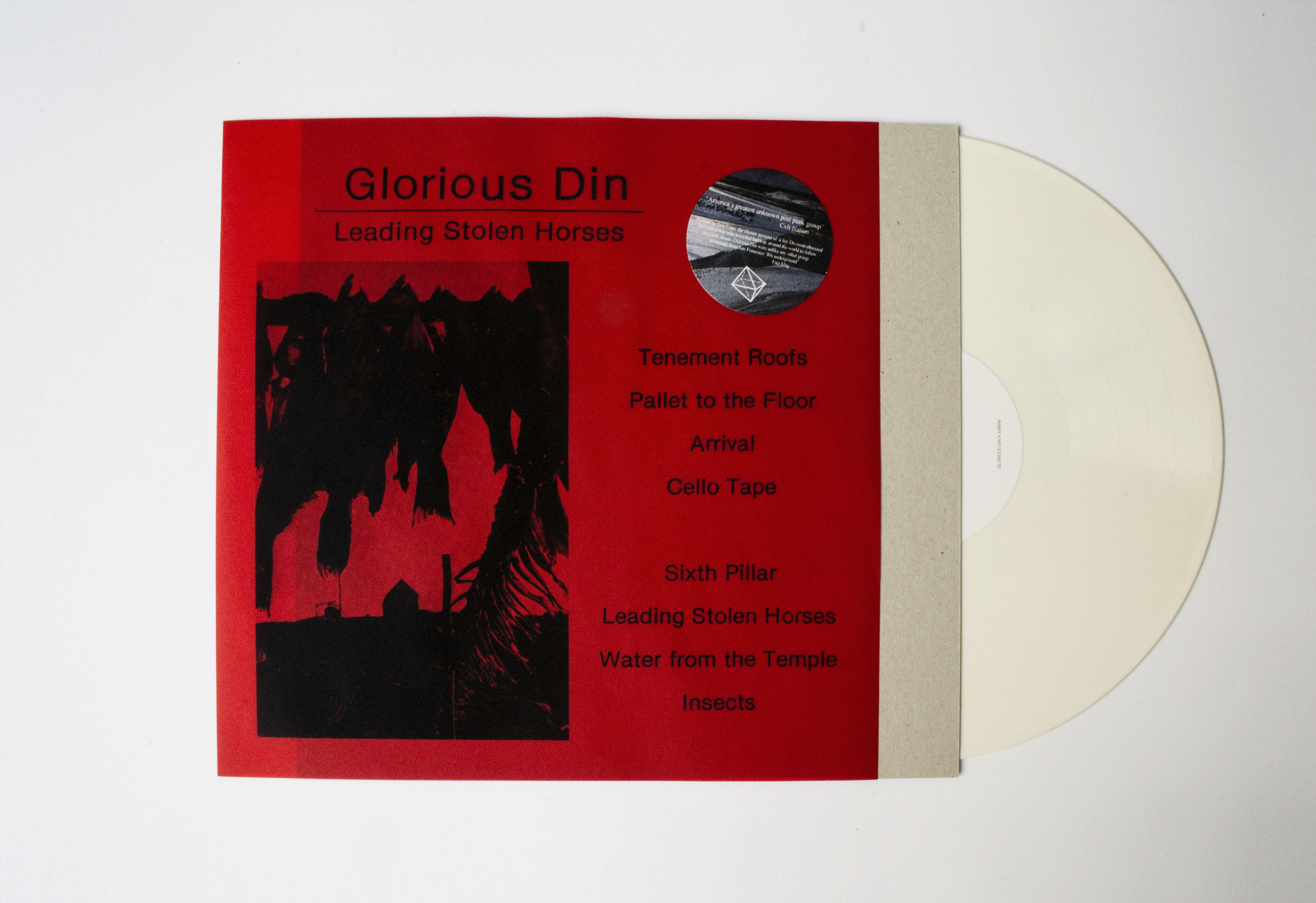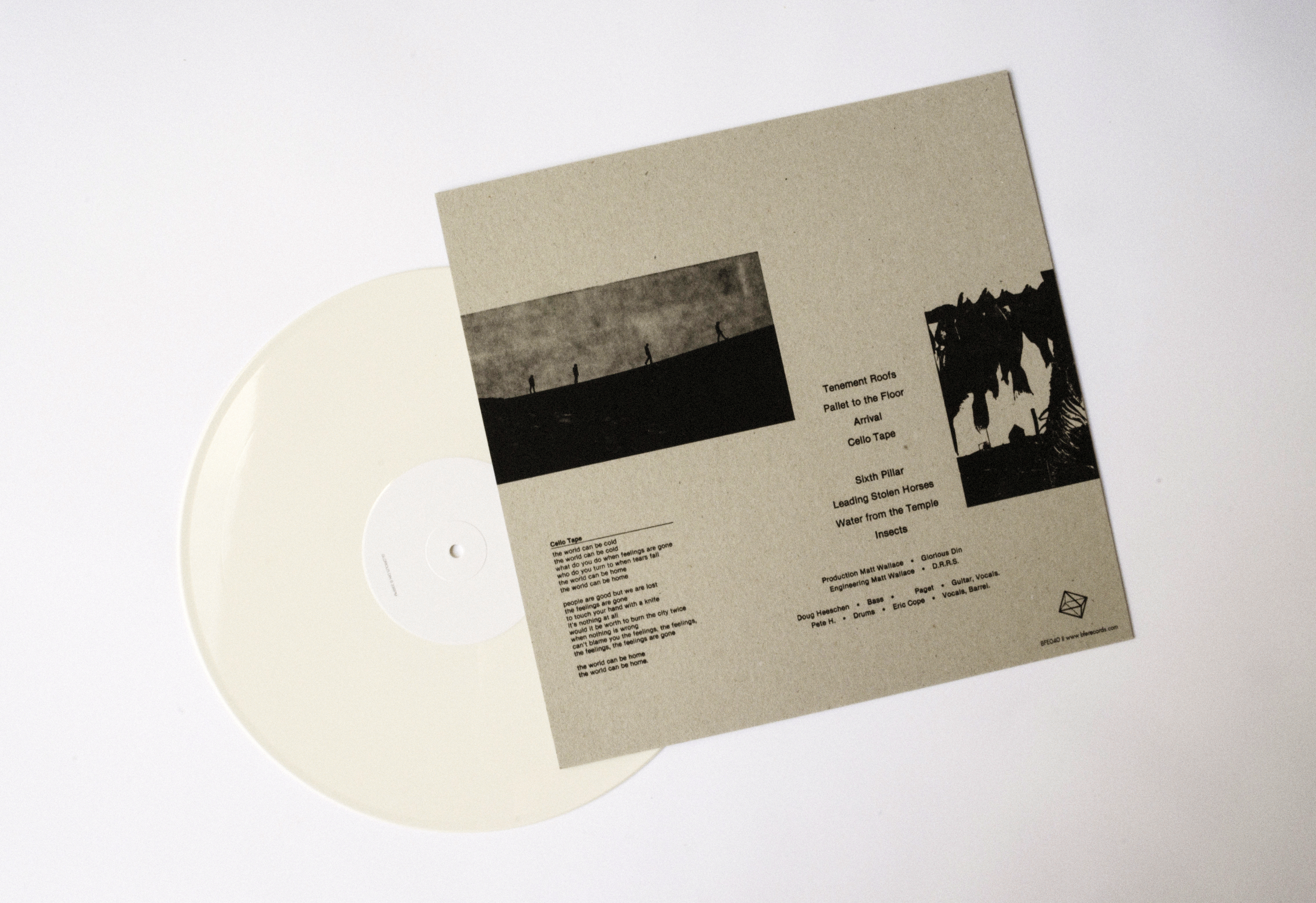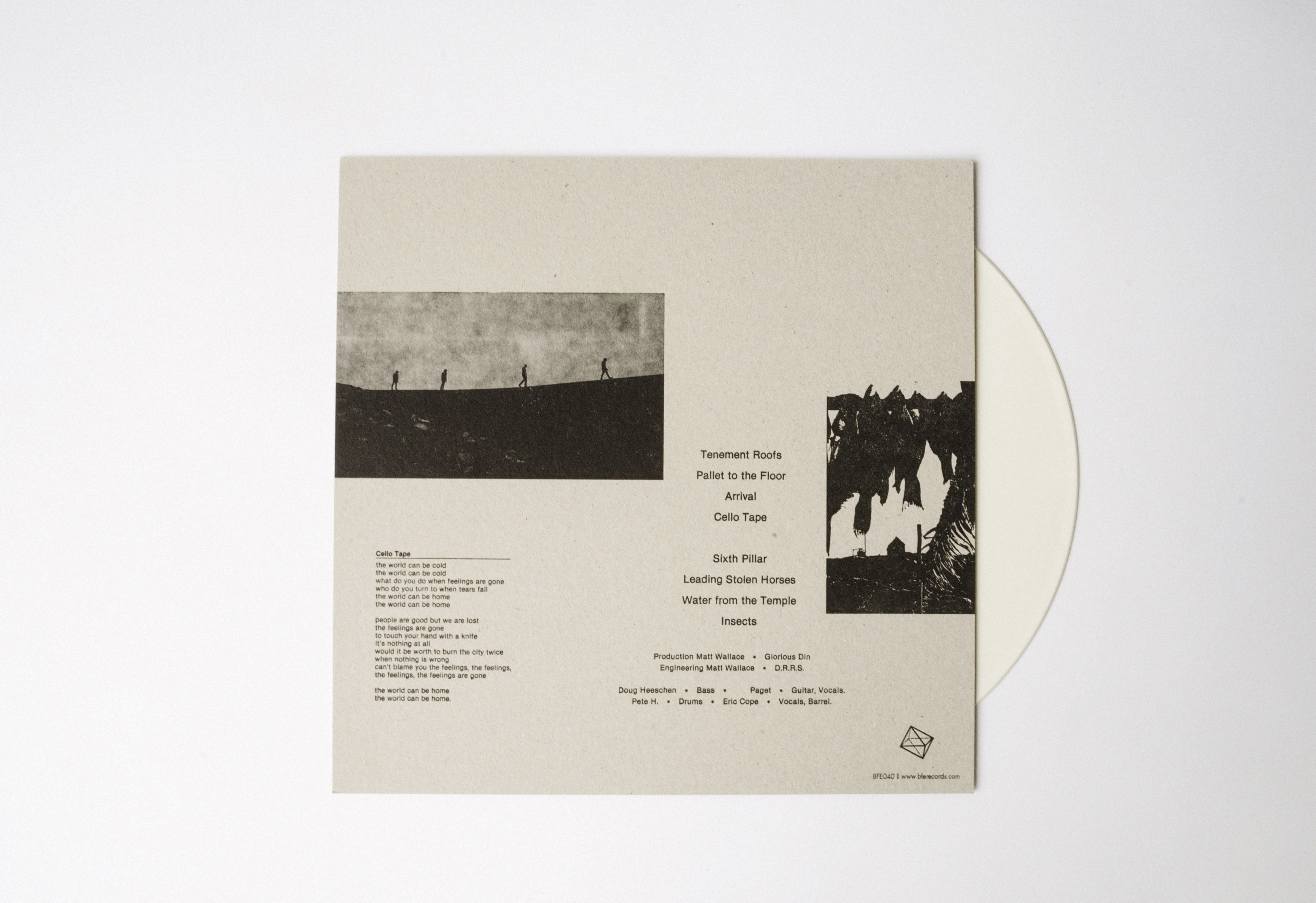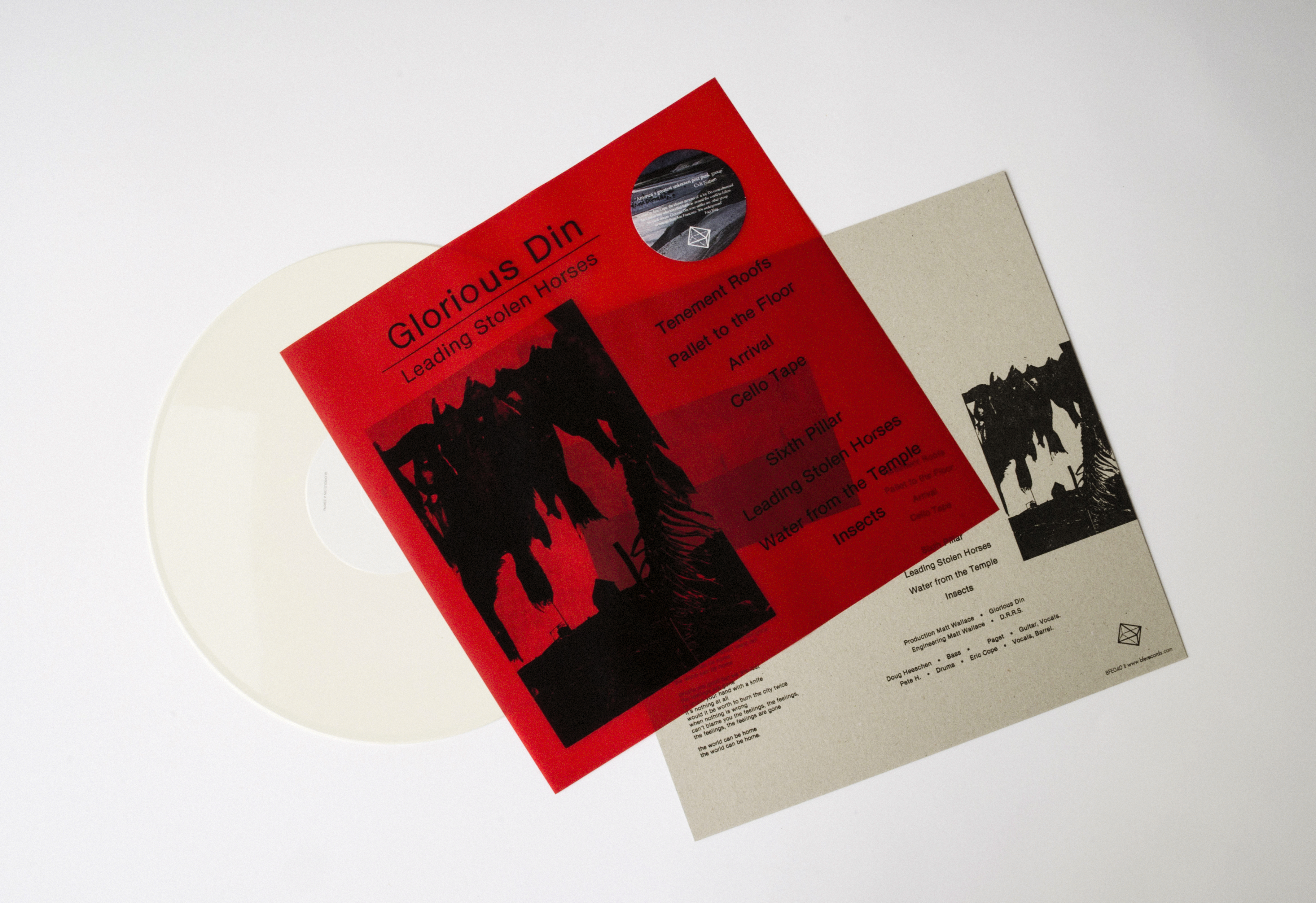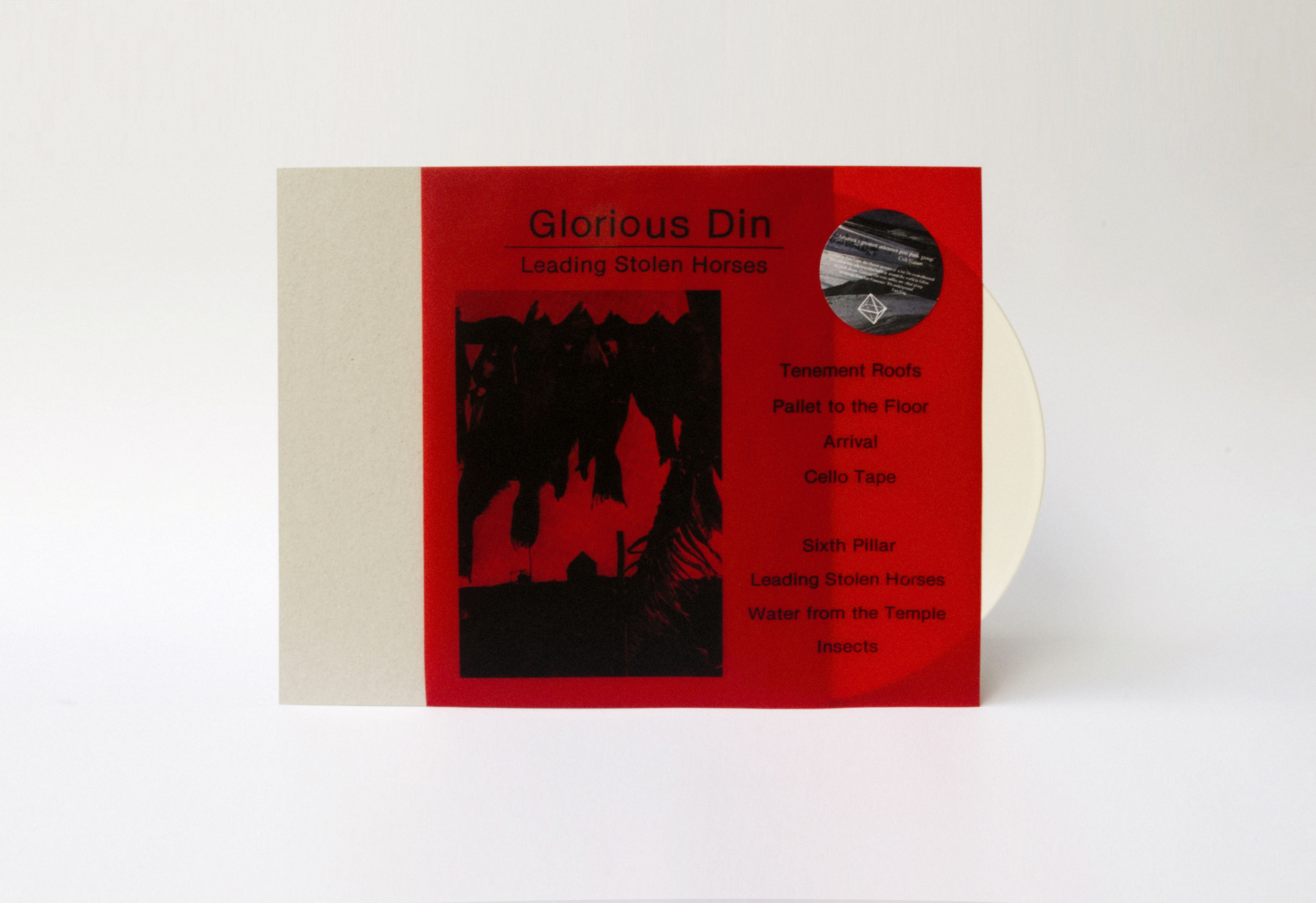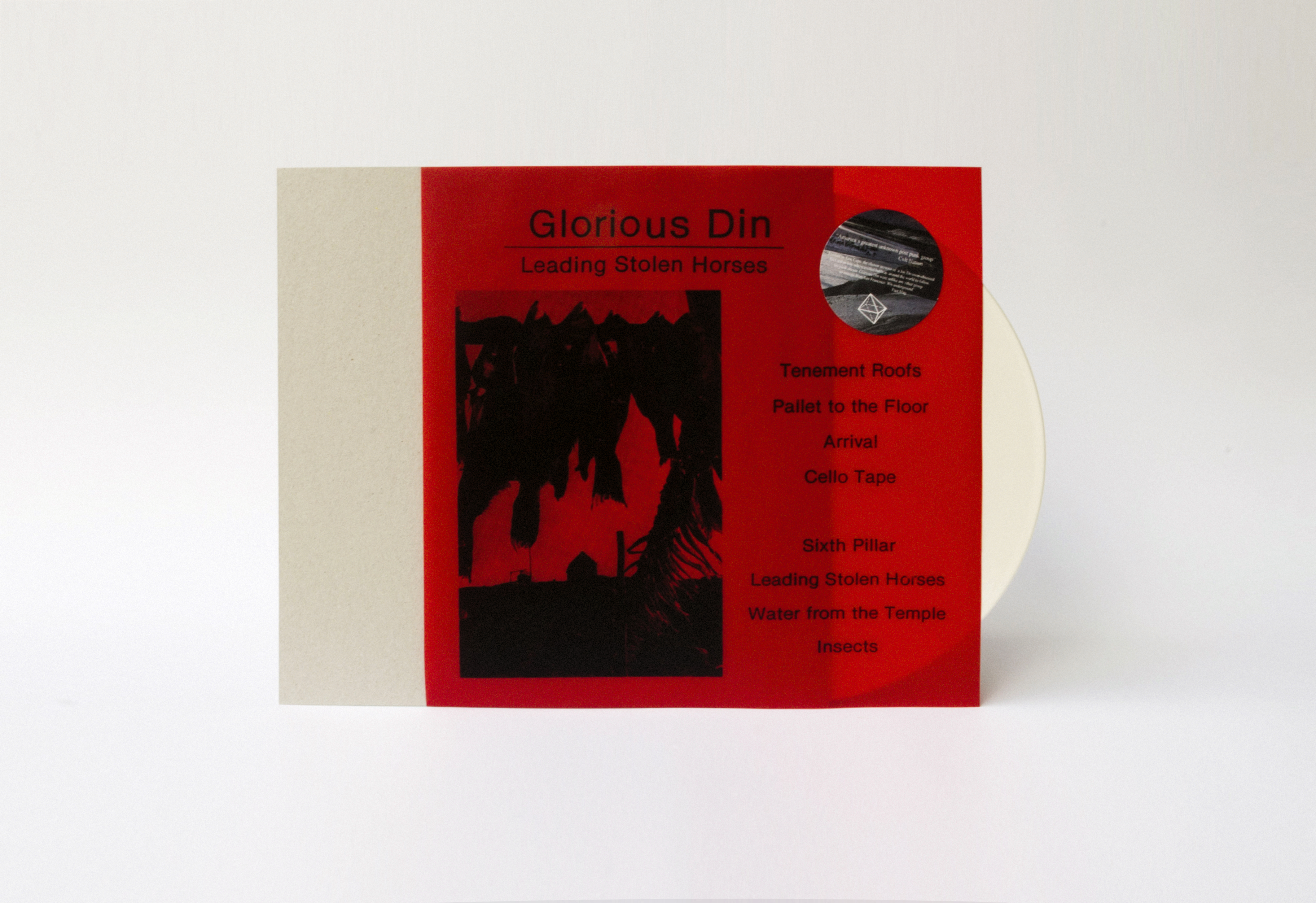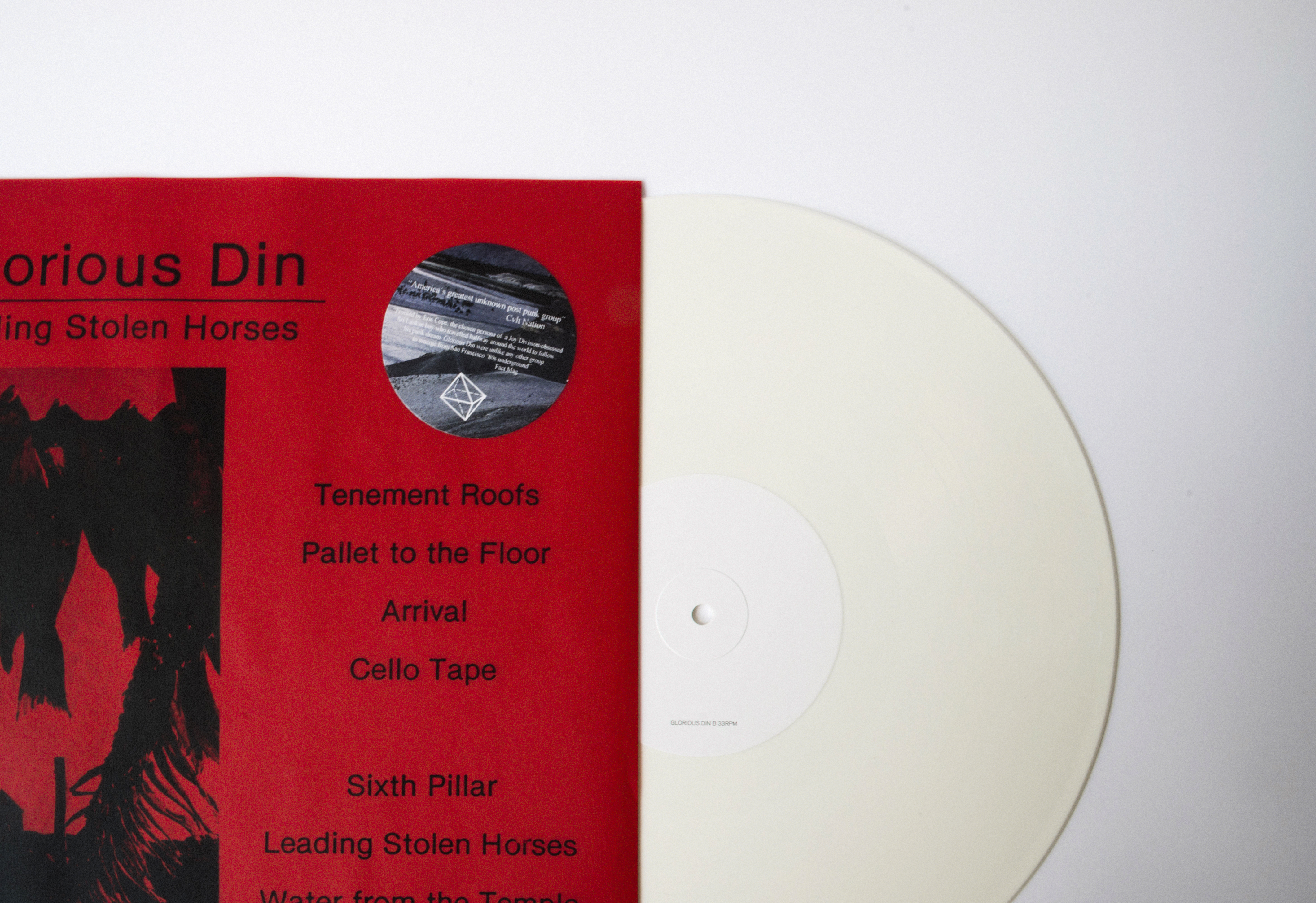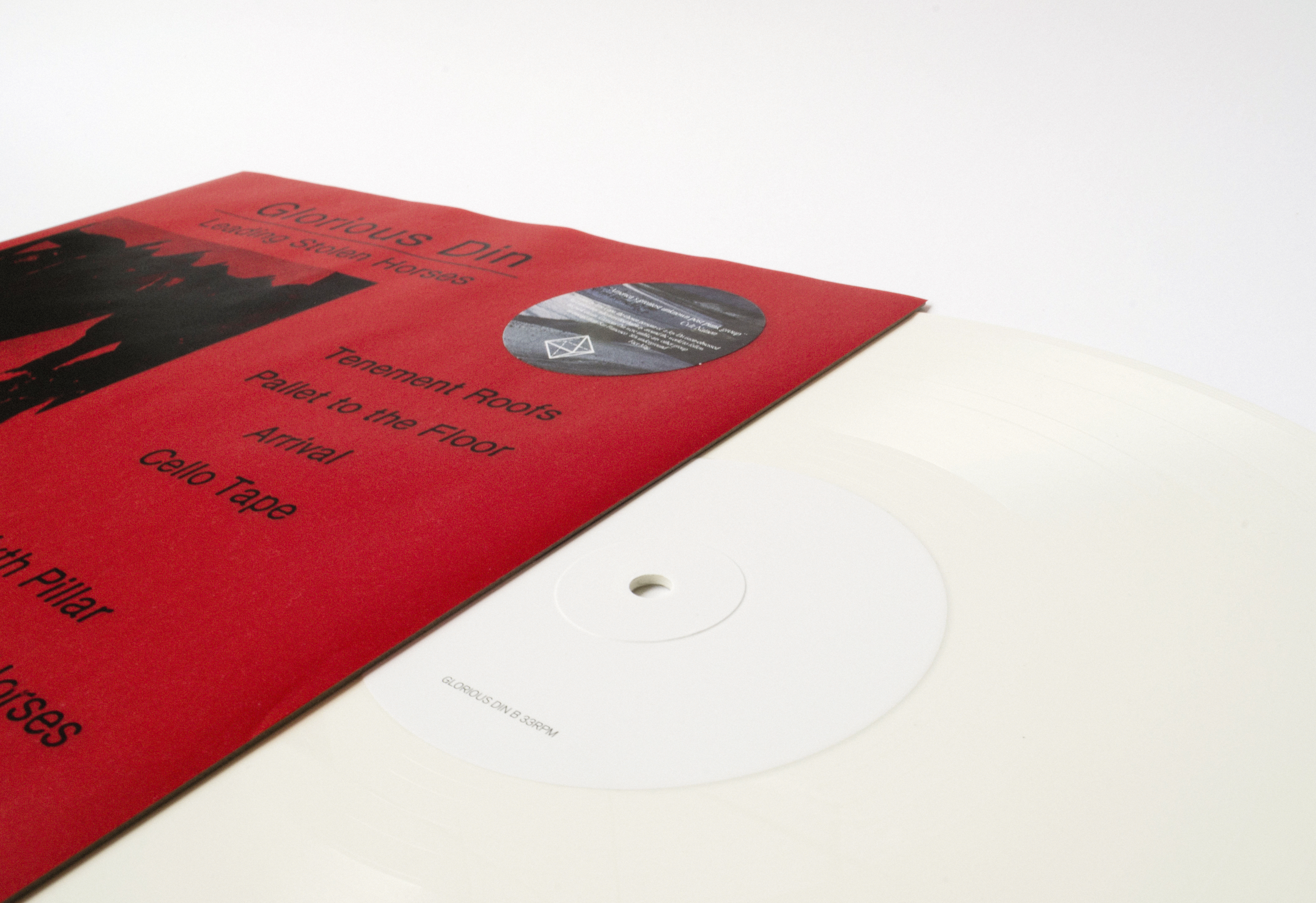 Hidden Treasure – Glorious Din
The history of pop contains countless captivating groups that have barely missed the great career that was before them. Glorious Din is one of those. Author of two albums between 1985 and 1987, this quartet of San Francisco was part of the footsteps of Joy Division and the first R.E.M., while avoiding to pass for vulgar pastichers with a sense of melody surprising.
Glorious Din is above all the story of a man. That of Eric Cope, a Sri Lankan singer who, in the space of two decades, between the early 1970s and the end of the 80's, had the time to leave his country to try a musical career in San Francisco , record two records essential to the history of post-punk with Glorious Din before discovering the writings of Malcolm X or the Black Panthers, and return to live in his home country to participate in the uprising against the government in place within Janatha Vimukthi Peramuna, a Popular Front of Liberation of Marxist Obedience. In the kind of "hectic life", we agree, it is there. But the question we ask ourselves in Brain is how did a Sri Lankan kid get a band in the United States and modestly stand out as one of the most fascinating skin-flicks of independent rock?
Animal bones, theft and confusionsTo go quickly and summarize, it will be said that Eric Cope (the name of artist he will choose – see further, ed) grew up in the jungle Polonnaruwa, in Sri Lanka's North Central Province, surrounded by wild animals and a shaman, Appu Hamy, who then teaches Buddhist tales of Jataka. Far from limiting himself to the precepts of his mentor, the young Eric takes the time to forge his own passions: at barely seven, he discovers Tintin, listens to his mother play music on a local radio and spends his evenings picking up the bones of animals killed by leopards earlier in the day. The result is more tortuous, but he agrees to expose it in an interview with Fact magazine: "At the time I was 15, I was a seasoned thief, I went to domestic or foreign markets and the stores, I stole everything I could. But most of the time, I mostly stole books and comics. And this taste for theft results from the disaster caused by my parents when they moved to the city. I was alone, a lost outsider, so I just wanted to go down to see what I was going to be able to steal. I did not want to get in trouble, but I got some. "
Although he never had anything premedited, Eric Cope then goes through a troubled adolescence, disturbed by multiple theft and the confusion that ensue: at age 15, while receiving a correction from a priest, Also rector of his school, the young man replies. It is a blood, the kind to respond to the slightest spark. So to take revenge, Eric seizes a cane, strikes his rector with and accepts his sanction: three weeks of temporary exclusion. The problem is that he does not learn anything from it. A few months later, he reoffends: when a bus driver points out to him that he has not paid his ticket and is ready to take him to the police station to settle the dispute, Eric, obviously disagrees, take the ticket dispenser and hit it with it. This time, he does not cut it: towards the prison, with, as a bonus, a definitive expulsion from his school. A meeting with Bob Dylan, a tribute to Julian Cope and a divorce At his exit, there are some signs that his situation is improving. First because he gets a job as a gravedigger, but also because he makes two discoveries that will prove essential in the following years. The first is the meeting of Bob Dylan in 1972 during a screening of the film Concert for Bangladesh, after which he bought his own guitar and wrote his first lyrics. The second is this 16-year-old girl from Bettendorf, Iowa, whom her parents welcomed for several months and with whom he composed his first songs. That's it, the old street kid has found his way: he wants to be a musician.
During a stay in Anchorage in 1980, he even found his own stage name: now, he will be called Eric Cope, in reference to the main character of the film Fade To Black (Eric Binford) and the leader of The Teardrop Explodes , Julian Cope. From then on, everything accelerates: he forms with another singer White Front, a hardcore punk band in the vein of Black Flag and Dead Boys, gets banned from all local bars and clubs, and ends up joining San Francisco where he climbs, almost coincidentally, Glorious Din alongside bassist Matt Hall. "I lived in Fillmore District with my wife and two boys (Bruce and Ian, named in honor of Ian Curtis, ed), but one day I come home and I understand that she left with them Rewind Eric Cope, still for Fact. "Breaking with my wife and losing my two children affected me deeply. I called Matt, who was still in Iowa City, and told him to come to San Francisco, he could live in my apartment. Then he knocked on my door with two skinheads, Nick Volm and Marty, and the girlfriend of one of them. Matt started playing bass with me and Jay (White Front guitarist Paget), and I asked Marty to play the drums. During this period, we worked at the Hunters Point studio. Marty did not stay long – he went back to Iowa – so I started singing and playing drums at the same time. And we recorded about 15 songs. "
Wondrous losersThe result is not without clumsiness, but it allows Glorious Din to record a small demo in December (Silence) in 1983 and to start giving concerts a few weeks later. In April 1985, the Insight label even allows them to publish their first album, Leading Stolen Horses. Produced by Matt Wallace, regular contributor to Faith No More at the crossroads of the 80's and 90's, this first package is a musical universe totally transcended by the cold rage of four guys who can not hope for any help from of the music industry. From Tenement Roofs to Insects, to Cello Tape and the huge Sixth Pillar, the eight tracks gathered here are an incredibly hard and determined record, as if Eric Cope and his friends were conscientiously endorsing all the evils of the Earth. It's violent, industrial, rough and sometimes open to Middle Eastern influences. It is rock before entertainment, carried by cryptic texts, so little supported by the media. Enough, however, that the few positive chronicles written allow them to tour throughout the United States in March 1986. A tour that quickly turns into a nightmare. Judge: a van that breaks down from the first day, all the savings of the group that go into the repair, a concert given to the Anti Club Los Angeles in front of 50 people, accounts that can not rebalance and a van that falls out again before a gig at the CBGB, eventually canceled. All in just six weeks …
This does not prevent Glorious Din from recording a second album, Closely Watched Trains, still produced by Matt Wallace but fundamentally different from the previous one. From now on, Eric Cope wants to get closer to the productions of Martin Hannett, and it means: from the first to the last second, the group plays here on production, working with overdubs to get a more successful and insane sound. The means used are those, banal, of everyone – a rhythm, a guitar, a voice – but Glorious Din composes on Closely Watched Trains real pieces, strewn with references to REM, Joy Division or even the Cocteau Twins, but always deeply singular. And dangerously seductive. Those who are about to discover them do not yet suspect their luck.
By Maxime Delcourt
hidden treasure glorious
Guardar
Guardar
Guardar
Guardar
Guardar
Guardar
Guardar
Guardar
Guardar