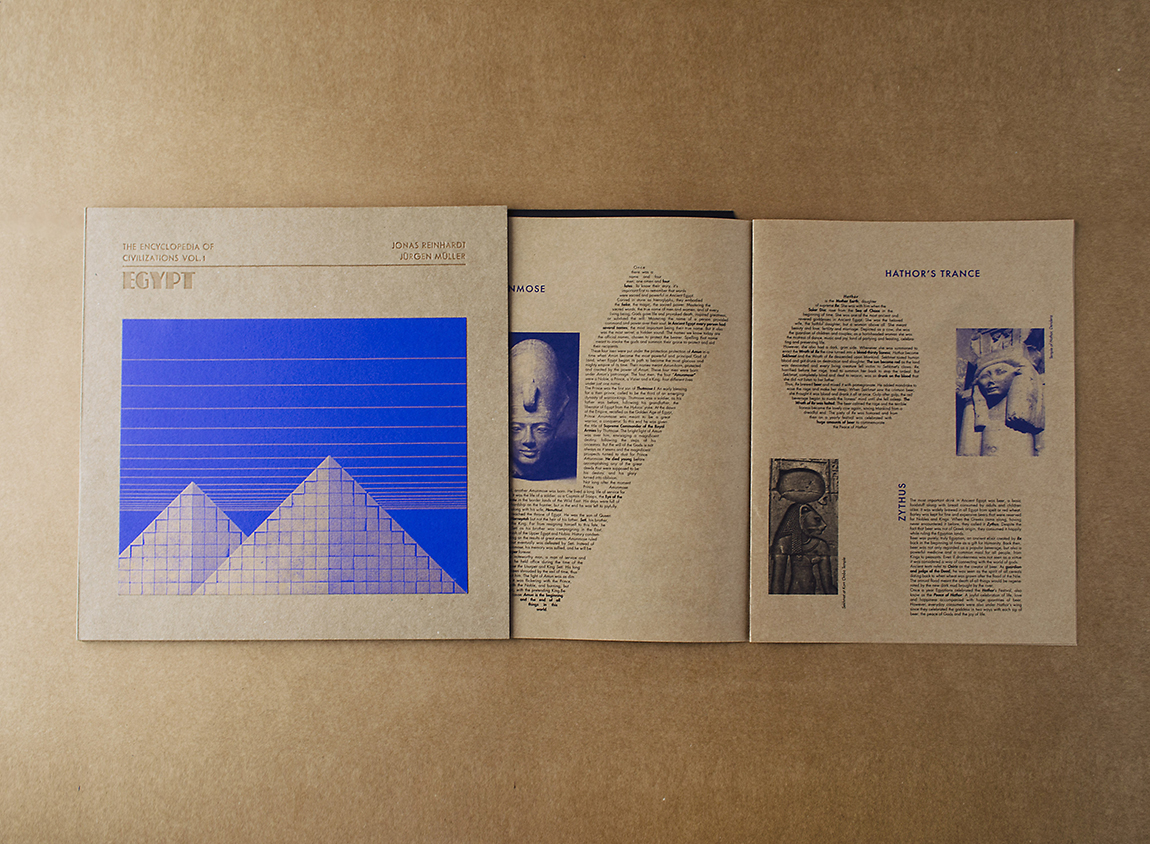 ABST 03 – JONAS REINHARDT / JÜRGEN MÜLLER – "The Encyclopedia Of Civilizations: Egypt" Lp (Sold Out)
ABST 03 – JONAS REINHARDT / JÜRGEN MÜLLER – "The Encyclopedia Of Civilizations: Egypt" Lp
20e Sold Out
________________________________________________________________
The LP is the first volume on "The Encyclopedia of Civilizations", a collection of split LP's just started atAbstrakce where selected artists offer their own insight into fascinating ancient cultures. In this volume music is inspired by ancient Egypt and comes with a 10-page booklet with images and texts explaining historic facts. The texts written by Juan Ruiz -an Spanish archeologist and researcher- in a half scientific/half poetic way rounds the music and transports you to the Ancient Egypt to get the whole listening experience. The careful design of the edition also helps: Egyptian colors (sand, electric blue, gold) and a sleeve printed in the old way, letterpressed with metal movable type as Gutemberg used to do it.
Jürgen Müller is the pseudonym previously used by Norm Chambers (aka Panabrite) for the album "Science of the sea", presented as an archival find by Digitalis Recordings in 2011. The album was supposed to be a reissue of early 80's songs recorded by a a self-taught composer who was studying oceanic science and playing some music on his houseboat, dreaming to sell the compositions to film and TV companies. Now Jürgen comes back and this time there's no romantic misterious story to tell, just some astonishing modular ambient songs influenced by library music, kosmische, minimalism or new age. Songs that refer to artists such as Mort Garson or contemporaries as M. Geddes Gengras or Jonathan Fitoussi.
Jonas Reinhardt is a Brooklyn based musician with releases in labels such as Not Not Fun, Kranky, The great pop supplement, Further or VCO records. His side is also influenced by kosmische but in a different code, more trippy and psychedelic. Deeper and darker atmospheres that remind to musicians such as Klaus Schulze, Steve Hauschildt or synthetist Steve Moore. Songs full of synth arpeggios and reverbered sound waves that create Egyptian dream visions.
"JONAS RHEINHARDT/JURGEN MULLER The Encyclopedia of Civilizations Vol.1: Egypt LP (Abstrakce Records, Spain, 2017)
Although the idea of a split album still perhaps appears slightly awkward, as a means of promoting work by new or relatively obscure artists it can be contended their function is more than justified. This particular release takes matters further by being dedicated to ancient Egypt and selecting two artists to use this as a starting point to their own ideas, complementing a 10pp booklet also included with photos and notes by Spanish archeologist Juan Ruiz. A worthwhile concept whereby one can hopefully expand their knowledge whilst listening.
Given a side each, and both utilising them to proffer four respective pieces, these two electronic artists forge an agreeable union, too. Jonas Reinhardt, the artistic pseudonym of this Brooklyn-based composer whose work has previously found a home on Kranky amongst others, reimagines those worlds once courted by Klaus Schulze. Throughout the course of profuse, undulating shimmers, kosmische gestures, gentle chord sequences and murmuring tones, it's easy to envisage the documentary on Egyptology this could soundtrack. By contrast, Jurgen Muller, the alias of Seattle's Norm Chambers of Panabrite, glides into gentler realms afforded by clusters of keys, loops and a sense of space not far removed from certain early 1970s minimalists most of us already know and cherish.
Altogether, a highly accomplished melding of minds compounded further by the type of packaging Independent Project Records made their name with. Quite startling. (Richard Johnson – Adverse effect magazine)"
https://www.discogs.com/sell/item/467867546
Guardar