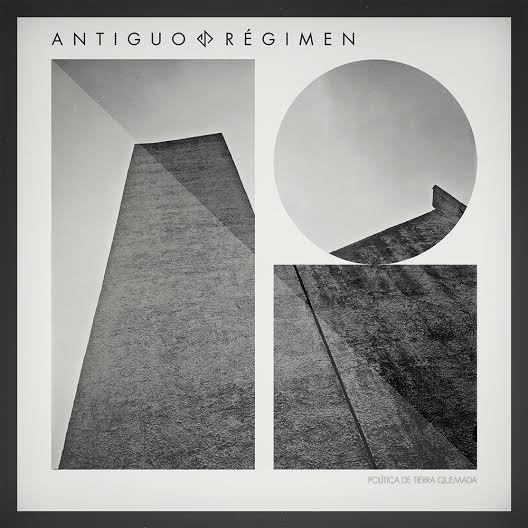 B​.​F​.​E.20 – ANTIGUO RÉGIMEN – Política de Tierra Quemada LP (Sold Out)
B.F.E 20 – 500 copies / Second edition – 300 copies
13 euros / Sold Out
---
Some months after their first 7″ "La formación de la sombra" , Antiguo Régimen are back with 9 new songs.
"In this first LP, "Política de tierra quemada", Antiguo Régimen extend their domination agenda, and their goverment plans unveil. The rythmic patterns demonstrate we are standing before autonomous tailors, strategists on a par with the likes of Zhukov, Rokossovski and Malinovsky, They would all, upon hearing "Política de tierra quemada", have a change of heart and step into national hero´s shoes, manufactured out of a mismash of one hundred thirty eight ragged materials that only goes to prove that Antiguo Regimen are just failed delincuents returning back to their homeland after their umpteenth unsuccessful attempt to seize power.
Their songs are designed so that they still retain a little bit of the sound of The Wake, The Sound, The Chameleons first Lp, and Decima Victima, as well as a less rugged postpunk vibe, the kind that carry out crimes, albeit this time around filled with the sense of weightlessness of pop music akin to bands like The Go Betweens or The Chills. These crimes are to be considered mere chimerical rites whereby matter, space and time could be dominated in order to unravel the breeding methods of modern life."
Review by Elvis Von Doom
Artwork by Joaquín Barón Herranz / Photos by Aina Climent
……………………………………………………………………………………………….
Unos meses después del 7″ "La formación de la sombra" , Antiguo Régimen vuelven a la carga con su primer disco "Política de tierra quemada", 9 nuevas canciones grabadas en el estudio Sountess.
"Política de tierra quemada extiende la agenda de persuasión y dominación de Antiguo Régimen. Sus planes de gobierno van desgranándose, sus patrones rítmicos dan muestra de que nos encontramos ante sastres autónomos, estrategas de la altura de unos Zhúkov, Rokossovski, Malinovsky. Por eso, todos ellos se colgaran la chaqueta de héroes nacionales después de que oigáis Política de tierra quemada. Una amalgama de telas compuesta de cientotreinta y ocho retales superpuestos que demuestran que son unos delincuentes fallidos que regresan a su país tras el enésimo intento de tomar el poder.
La arquitectura de sus canciones arroja la sombra de The Wake, el primer lp de The Chameleons, The Sound, Décima Victima y todo el post-punk menos agreste. Ese que perpetra delitos pero esta vez henchido de la ingravidez pop de grupos como Go-Betweens o the Chills. Delitos que son ritos quiméricos a través de los cuales acceder a manejar la materia, el espacio y el tiempo intentando desentrañar los métodos de reproducción de la vida moderna." Reseña de Elvis Von Doom
Editado por Burka For Everybody / Discos Humeantes y Flexidiscos. Promocionado por Infodisco.
Diseño de portada por Joaquín Barón Herranz / Fotos de Aina Climent