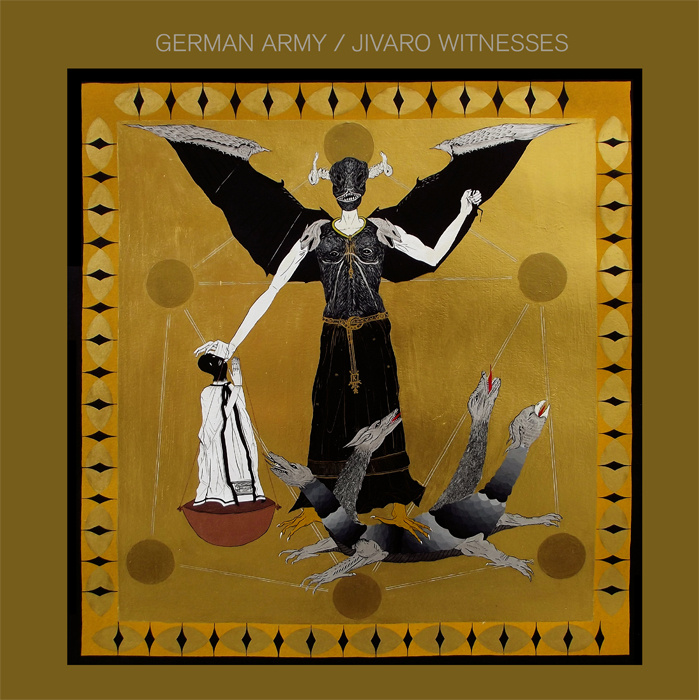 B​.​F​.​E.21 – GERMAN ARMY "Jivaro Witnesses" LP (Sold Out)
B.F.E 21 – 300 copies
14 euros / Sold Out
---
German Army incorporates the memories of the vintage recordings of Cabaret Voltaire, Dark Day, Hafler Trio, and Kaa Antílope, albeit with a stylized, unique european manner of understanding the genre.
They have scattered a number of recordings on tape, and a couple of LPs were edited last year. Magazines like Wire or Decoder have set eyes on them without having even played live as of yet
Such a prolific venture, as dictated by the 80s cassette subculture canons of electronic music, does not equate, in their case, to dispersion. German Army always puts every effort to render a kind of sound that veers from noise in order to synthesize a synaptic symphony, gushy and cold, full of barbed-wire fences and vanishing borders.
Their sound, akin to Cabaret Voltaire, does not constitute a mere copy of these, but treats paranoia as a primordial sonic expression, and sound as a virus that spreads across the spoken word setting mechanisms that have remained hidden in the listener.
They are not an ambient band, but the deep mark of Zoviet France and Nocturnal Emissions makes itself evident in the way they shaped the volt anatomy against a sky full of threatingly watching drones.
180 gr vinyl
……………………………………………………………………………………………….
"German Army se alzan con el recuerdo de las añejas grabaciones de Cabaret Voltaire, Dark Day, Hafler Trio y Kaa Antílope, con una especial estilización europea del genero.
Han diseminando grabaciones en incontables cassetes, y un par de lp's editados el año anterior, y sin apenas haber tocado en directo han llamado la atención de revistas como Wire o Decoder Magazine.
Prolíficos como mandan los cánones de la subcultura cassetera electrónica de comienzos de los 80, tal frugalidad a destajo en su caso no significa dispersión. German Army siempre concentran sus fuerzas en un sonido que elude el noise para sintetizar una efusiva y gélida sinfonía sináptica llena de alambradas y fronteras etéreas.
Su clara aproximación a Cabaret Voltaire no les sitúa como meros copistas, sino que trasladan la paranoia como primaria expresión sónica, el sonido como un virus que se transmite a través del verbo que acciona mecanismos ocultos.
No hacen ambient, pero la huella de Zoviet France y Nocturnal Emissions se halla en como moldean la anatomía del voltio en un cielo vigilado por drones." Elvis Von Doom
Vinilo de 180 gr