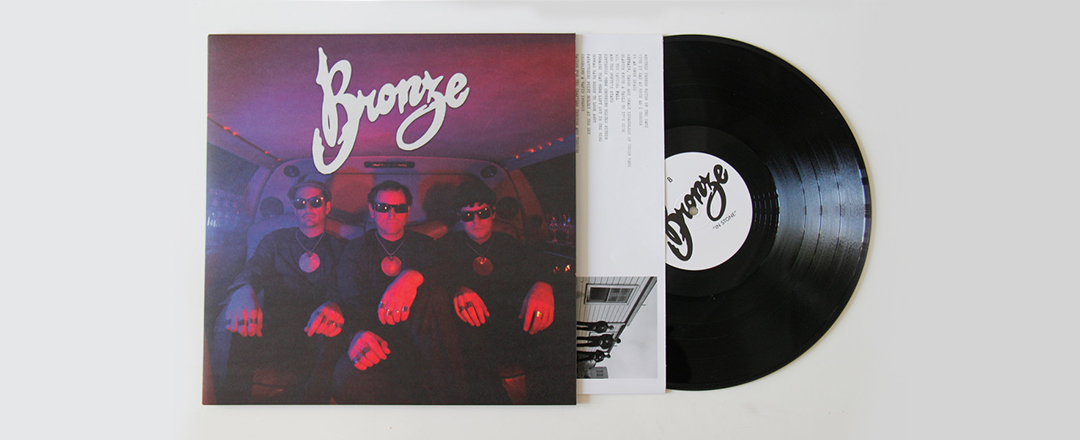 B​.​F​.​E​.​31 – BRONZE "In Stone" LP (Sold Out)
B.F.E 31 – 300 copies
13 euros / Sold Out
---
The third album by San francisco psychedelic synth wave trio BRONZE.
Bronze is Brian D. Hock, Rob Spector and Miles Friction. This trio coalesced in 2006 when Hock returned to San Francisco from Berlin after splitting with his former band The Vanishing and moved into a warehouse with Spector, who was a long time collaborator in the S.F. musik scene. Friction was enlisted shortly thereafter and the three began experimenting with synthesizers, samplers, vocals and heavy repetitive rhythm via live drums. After a european tour opening for Erase Errata and grip of singles they recorded their first album "Copper" released on New York's "RVNG Intl" in 2011. Numerous U.S. and European tours followed and in 2014 they released their 2nd full length "World Arena" on Los Angeles label "Not Not Fun" The sound of "Bronze" is influenced by psychedelic synth musik, punk, wave, industrial and jazz, blended into a heavy cocktail of sonic witchery. 2015 will see also the release of a live album on John Dwyer's (Thee Oh Sees) Castleface Records.
Edition: Mastered by Rude 66 / Tape edition through Not Not Fun records
"Few bands perplex like San Fran riddler trio Bronze but ever fewer have managed to hatch and hone such an obliquely singular sound. The group's third long-player, In Stone, twists and burns through eight new iterations of their classic oscillator-fusion psychedelia, inflected with shades of post-punk raga, skronk lurch, modal incantantion, deep space narcosis, lizard kingmanship, and home-wired industrial dementia. As an album, these recordings skew tenser, twitchier, a touch paranoiac, bloodshot tweakers stalking steep foggy streets. The alchemy of drummer Brian Hock, vocalist Rob Spector, and electronicist Miles Friction is always riveting in the live sphere but In Stone feels like more of a studio document, exploratory and expressionistic, full of ideas and psychic interplay. Bay Area burnout rendered as psychotropic sculptural waveforms. Confusion isn't sex, it's something stranger. Black tapes mastered by Ruud 66 with J-cards designed by the band."

……………………………………………………………………………………………….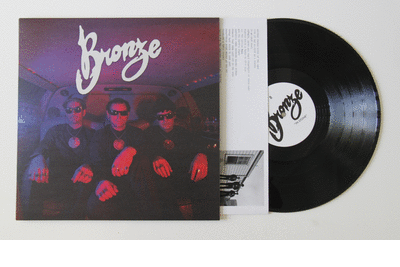 Guardar