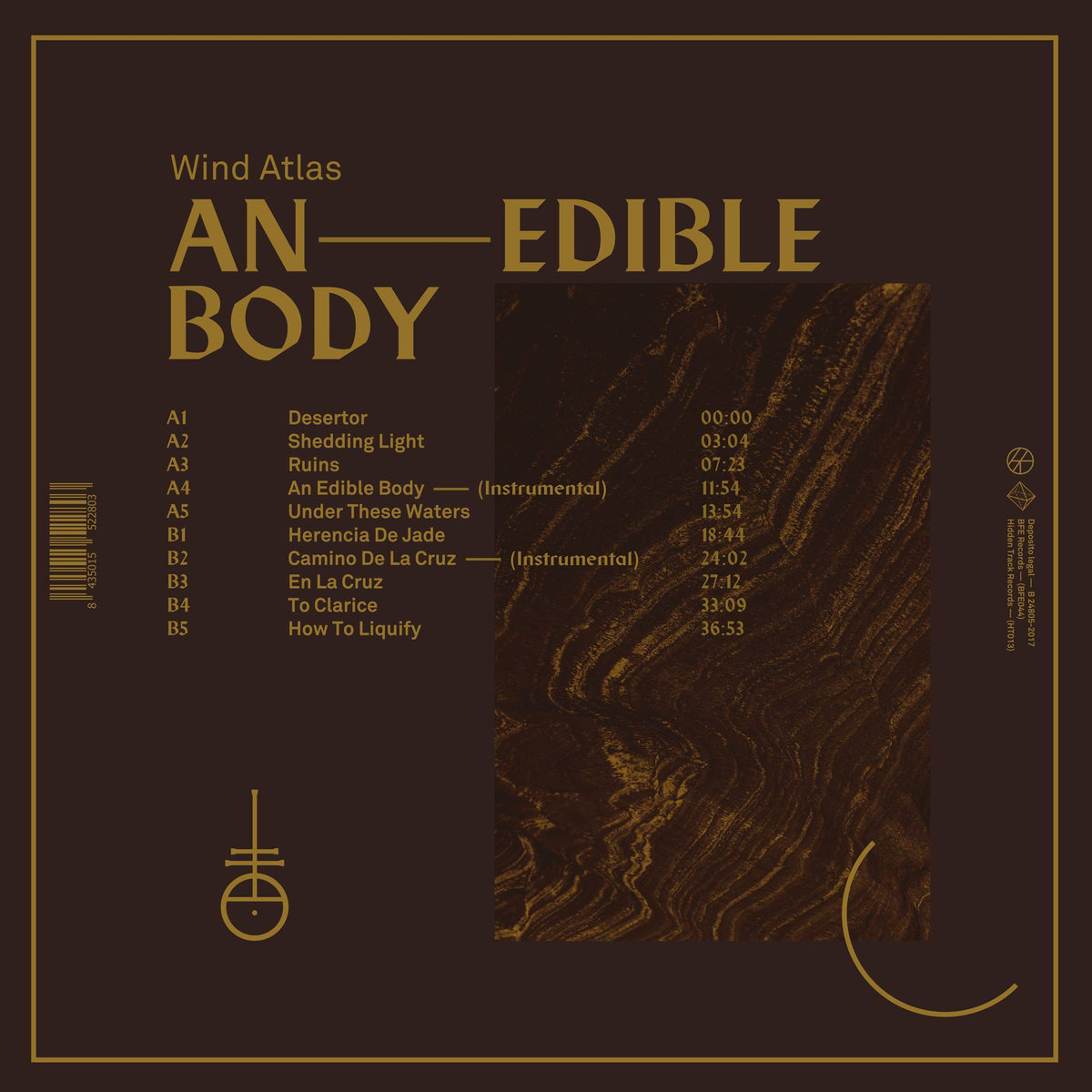 B.F.E.44 – WIND ATLAS "An Edible Body" LP (Sold Out)
B.F.E.44 – WIND ATLAS "An Edible Body" LP
300 copies. Sold Out
________________________________________________________________
An Edible Body, Wind Atlas' new album, marks a turning point in the band's trajectory. Their third record builds a new space for the band to experiment and play with new sounds and electronic rhythms. Strangely, An Edible Body is the band's most experimental album and at the same time the most accessible.
After a change in the band's formation at the end of the Lingua Ignota (BFE, 2015) tour, Wind Atlas take a break from performing as to discover new sounds and work on a new album. Without a bass player, the band turns to electronic music as an answer for mixing their ritual ways with new intensities and rhythms never explored by them before. If their first albums, the EP Fen Fire (BPR, 2012) and The Not Found (BPR, 2013), were essentially influenced by 4AD's eighties bands like Cocteau Twins or Dead Can Dance, with Lingua Ignota, Wind Atlas discover an array of possibilities beyond the bands initial reverb-pumped folk songs. Opening up to post-punk, primitive sounds and spiritual chants, they begin to include post-industrial hints that would later crystallize in the form of this new album, An Edible Body.
In search of this new sound, the band decide to record the album in New York with Sean Ragon, main figure of the current post-industrial scene, leader of the band Cult of Youth -whom they meet after performing together in Barcelona- and occasional guitarist of Psychic TV, seminal band of the industrial music scene: the chemistry in the studio was immediate. An Edible Body was recorded in just two weeks, one freezing month of February in 2017, at Sean Ragon's basement studio in Maspeth, Queens, New York.
The album experiments not only with new sounds but also with new forms of speech. That's why "Desertor"opens the album, a crude and simple song, in which the voice finds itself almost alone, in the aridity of a desert, threatened by a noise in the background. Interferences interrupt the words and the voice goes out of tune due to tape manipulation.
That interference foretells what is to come, the anticipation of a new affirmation called "Shedding Light". The drum machine blends with the acoustic drums and metal plates, the synthesizers stand out and the voice sings ironically to a new reality, built in a more assertive and cruder way than in previous albums.
Despite the apparent distance between songs, An Edible Body sounds oddly solid. The dark ambient sound of "Camino de la cruz" is far from "How to Liquify" or "Ruins", the most unabashed pop song the band has composed to date. In a way, Sean Ragons production gives unity to an eminently heterogenous album. The eastern influences of Lingua Ignota reappear in "Herencia de Jade", with a danceable industrial beat that takes on more significance when performed live.
"En la cruz" is a techno tribute to San Juan de la Cruz and probably, one of the central tracks on the album. The new version of some of the verses from his Cántico espiritual combined with a dense rhythm that culminates in a polifony of voices affirming the existence of the force of the invisible, product of Sean Ragon's magic in the studio thanks to the sound processors used on bands like Coil or Chris and Cosey.
On the other extreme we find "Under these Waters", a sound poem that sings to a theme present in the band's imaginary from the start: the uncanniness of water. "Under these Waters" is a song with a strong sexual component built through hipnotic cadences and suggestive synthesizers.
"To Clarice" is a post-industrial ballad, fundamental to understand Wind Atlas' new vibe. Again, the influence of poet Leopoldo María Panero is reflected in the lyrics, which speak of a cathartic encounter. "To Clarice" is also an offering to writer Clarice Lispector, as well as a recognition of one's body and the foreign body, its senses and its meanings.
——————————
"Sometimes a release crosses your path that reverberates with enigmatic familiarity, uniquely fusing sounds and genres in a captivating collection of songs. Such is the case with the third LP from Barcelona's Wind Atlas.
The album, An Edible Body, is an evolution from the band's 4AD Records inspired earlier work, fuses post-punk with world music sounds paralleling the explorations of Dead Can Dance, with hints of early 90's Ethereal Gothic Rock like The Shroud, mixed with Post-Industrial and Neo-folk sounds.
The latter influenced could have been honed with the aid of having the album produced in New York with Sean Ragon, a main figure of the current post-industrial scene, who also is leader of the band Cult of Youth and occasional guitarist of Psychic TV.
You can especially here such influences on tracks such as the title track, Shedding Light, and Under These Waters, which momentarily delve into territory you would expect from Coil, and continuing into tracks such as En La Cruz showcasing the novel fusion of style normally reserved for the work of Lisa Gerard.
An Edible Body is out on January 26 through labels BFE Records and Hidden Track in vinyl, and GH Records in CD."
http://www.post-punk.com/listen-to-wind-atlas-new-album-an-edible-body/
——————————
The album is out through labels BFE Records and Hidden Track on vinyl, and GH Records on CD.
Edition: 300 copies (180 gr vinyl. 100 copies white vinyl. 200 copies black vinyl)