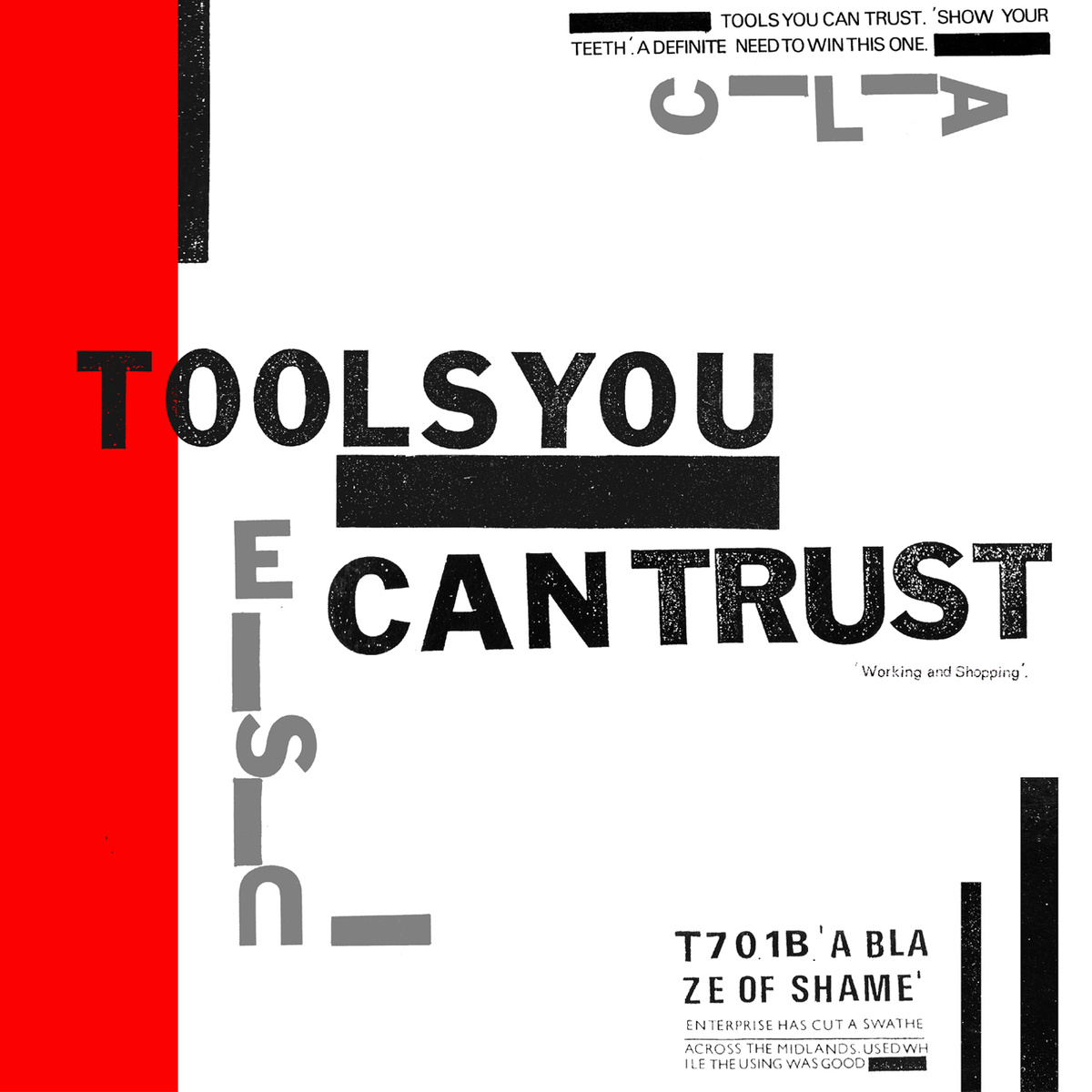 B​.​F​.​E​.​29 – TOOLS YOU CAN TRUST "Working And Shopping" LP (Sold Out)
B.F.E 29 – 300 copies
14 euros / Sold Out
---
Excellent post punk / industrial / no wave from this underrated and overlooked band from Manchester (1982-86). Creating music from a mixture of drums and metal percussion, with only minimal use of guitars, and strongly politicised lyrics.
They came from the Hulme district of Manchester and the group essentially comprised the duo of Stedman and Ward with other members coming and going throughout their career, which also included three sessions for John Peel's Radio 1 show.
"The hillbilly howling of Alan Vega turned into a tight, monochrome cockney mantra giving an answer to the New York no wave. However, they claimed they came from the tradition that Link Wray and Duane Eddy had started. This space showed up in the rigid structure of his songs. They came from Manchester and they came before the dance scene emerged from Manchester. Anyway, you can dance to their songs, or rather hit and dance, that is. Here you have a compilation with his first 7" and some Peel Sessions you can hear for the first time." Review by Elvis Von Doom
Remastered in Sountess Studio / LP 180 gr / Download code inside /
Limited edition / 14 euros

"Hidden somewhere in mid '80s Manchester were Tools You Can Trust – a post-punk, post industrial band who barely used guitars but instead spent their time making fascinating politicised pop out of hitting sheets of metal. It's the most unusual sound and listening to it with the benefit of history it stands out for sounding like absolutely no-one at all.
I suppose if anything it's a cross between the harsh edges of 'Flowers of Romance' era PIL married to the danceable punk funk of A Certain Ratio and vocally there are hints at the dark crooning of of Suicide's Alan Vega. In fact opener 'Show Your Teeth features a kind of breathless barking where the vocals would normally go but this incendiary music is both unnerving and rather thrilling. With instruments such as metal cutter, pneumatic drill and metal drums listed on the sleeve, you can sort of see what they were up to but they used these things to make captivating rhythms rather than just a racket.
Not always an easy listen  – its extremely discomforting but also utterly fascinating." Norman records review
……………………………………………………………………………………………….
Excelente post punk / industrial / no wave de esta menospreciada banda de Manchester (1982-86). Creando música con una mezcla de percusiones de metal, batería, una guitarra minimalista y letras marcadamente políticas.
Tools you can trust venían del distrito de Hulme de Manchester y existieron durante unos pocos años a principios y mitad de los 80. El grupo lo componían esencialmene Stedmand y Ward aunque fueron participando otros miembros durante su historia, sobretodo para los directos.
Hicieron 3 Peel sessions y en este disco se incluyen algunas de las grabaciones de estas sesiones que nunca antes han sido editadas.
"Los alaridos hillbillies de Alan Vega transformados en un férreo y monocromo mantra cockney con la responden a la no-wave neoyorquina. Sin embargo ellos decían que venían de una tradición que habían empezado Link Wray o Duane Eddy Con algo así se adiestraban Tools You Can Trust, después de salir del trabajo. Ese espacio físico se notaba también en la musculatura de sus rígidas estructuras. Venían de Manchester y ellos llegaron antes que el baile a la escena de Manchester, sus canciones se bailan, pero dando manotazos. Aquí se recogen sus primeros 7" descatalogados y temas inéditos de las Peel Sesions que nunca llegaron a ver la luz. Tras la ardua búsqueda de sus miembros por el staff de Burka aquí los tienen en todo su mecánico esplendor." Reseña de Elvis Von Doom
Remasterizado en el estudio Sountess / LP 180 gr / Código de descarga dentro del disco / Edición limitada