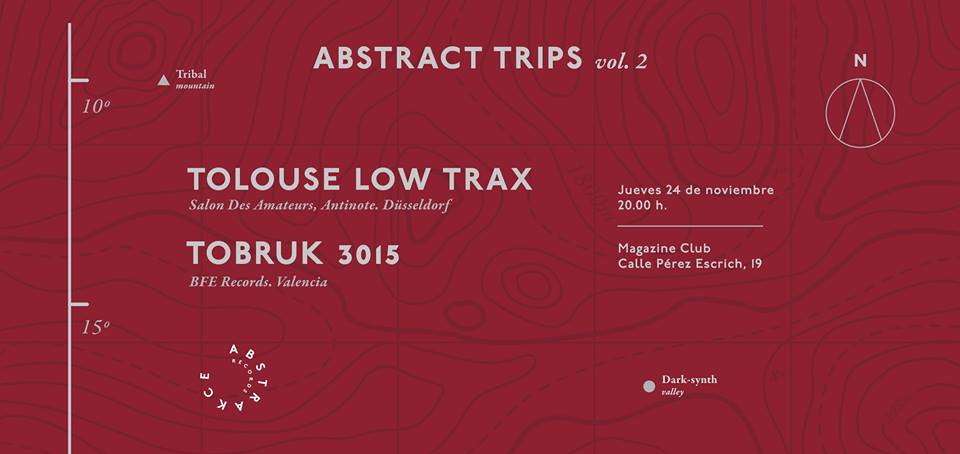 Tolouse Low Trax + Tobruk 3015 / Abstract trips vol. II
Abstract Trips vol. II
Abstract trips es un ciclo de conciertos organizado por Abstrakce Records en forma de viajes mentales a lugares desconocidos.
Segunda edición de lujo, con Tolouse Low Trax a los mandos, que nos guiará en este segundo viaje con sus ritmos primitivos, hipnóticos y sincopados.
Tolouse Low Trax es el pseudómimo tras el que se esconde Detlef Weinrich, miembro de la mítica banda de krautrock alemana Kreidler y responsable del Salon des Amateurs en Dusseldorf, uno de los locales más destacados de la escena underground europea de la actualidad. Música electrónica con influencias psicodélicas, primitivas, cósmicas e industriales, que remiten a un espectro muy variado de influencias que van desde Kraftwerk o Neu pasando por Esplendor geométrico o Mecánica Popular.
Detlef se encuentra en su mejor momento. Después de editar su material en discográficas como Infiné, Karaoke Kalk, Kunstkopf, Themes For Great Cities o Cómeme, el sello francés Antinote acaba de editar el primer volumen de una trilogía con material inédito de sus últimos 10 años.
https://soundcloud.com/detlefnet
La noche empezará con TOBRUK 3015, el nuevo proyecto de Joni (Antiguo régimen, Polígono Hindú Astral, BFE records), que manipulará sus sintetizadores para crear la banda sonora de un futuro distópico dominado por cyborgs.
Para terminar tendremos a Orco pinchando una cuidada selección de electrónica centrada en sonidos EBM y new wave.
Entrada: 8 €
———————
Abstract trips vol. II
Abstract trips is a series of gigs organized by Abstrakce Records. A mental travel to unknown places.
Second deluxe edition with Tolouse Low Trax at the controls, who will guide us in this second trip with his primitive, hypnotic and syncopated rhythms.
Tolouse Low Trax is the name after Detlef Weinrich, a member of the legendary German krautrock band Kreidler and responsible for the Salon des Amateurs in Dusseldorf, one of the mostoutstanding venues of the European underground scene today. Electronic music with psychedelic, primitive, cosmic and industrial influences, which refer to a spectrum of varied influences ranging from Kraftwerk or Neu through Esplendor geometrico or Mecánica Popular.
Detlef is at his best. After editing his material with Infiné, Karaoke Kalk, Kunstkopf, Themes For Great Cities or Cómeme, the French label Antinote just published the first volume of a trilogy with unreleased stuff from his last 10 years.
https://soundcloud.com/detlefnet
The evening will begin with Tobruk 3015, the new project by Joni (Antiguo Régimen, Polígono Hindú Astral, BFE records), who will manipulate his synthesizers to create the soundtrack of a dystopian future dominated by cyborgs.
Finally we will have Orco djing a selection of electronic sounds centered in EBM and new wave.
Tickets: 8 €