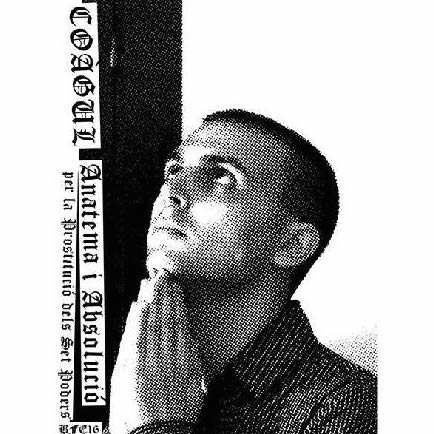 B​.​F​.​E.16 – COÀGUL "Anatema i Absolució Per La Prostitució Dels Set Poders" CS (Sold Out)
B.F.E 16 – 100 copies
Agotado / Sold Out

---
2 news songs by Marc O´Callaghan's COAGUL Project.
15 minutes per song. Anathema & Absolution. Industrial folk invocations, electronic drones, hipnotic and perturbating minimalism … are just a few words to describe the atmosphere COÀGUL creates. 100 numbered copies.
Visit Marc O´Callaghan´s web to know about his other music and his awesome graphic projects.
……………………………………………………………………………………………….
2 nuevas canciones de Coágul. 15 minutos cada una. Anatema y Absolución. Música perturbadora e hipnótica.
" Coàgul es el proyecto en solitario …del artista Marc O'Callaghan creado el año 2009. Sirviéndose únicamente de sintetizadores, voz y campanas, crea invocaciones industriales de procesiones-drone épicas, hímnicas y minimalistas, a veces tocadas al ritmo de un navío de esclavos romano. A la vez su música parece medieval, incluso rural, con cánticos y proclamaciones de letras de poemas esotéricos oscuros en catalán.
Con una estética a caballo entre el black metal y David Tibet, su temàtica está plagada de simbología Mediterránea ancestral, referencies al Tarot, surrealismo y viejos secretos. En los últimos años ha participado en numerosos conciertos y festivales dentro y fuera de Cataluña, entre ellos el MEM (Bilbao, 2010), ((Gargall)), (Manresa, 2010), 7ª Mostra Sonora i Visual (Barcelona, 2010) y el Festival Konvent.0 (Bergueudà, 2010). El dia 13 de junio tocará en el Festival Sónar 2013 ." Reseña de Magia Roja