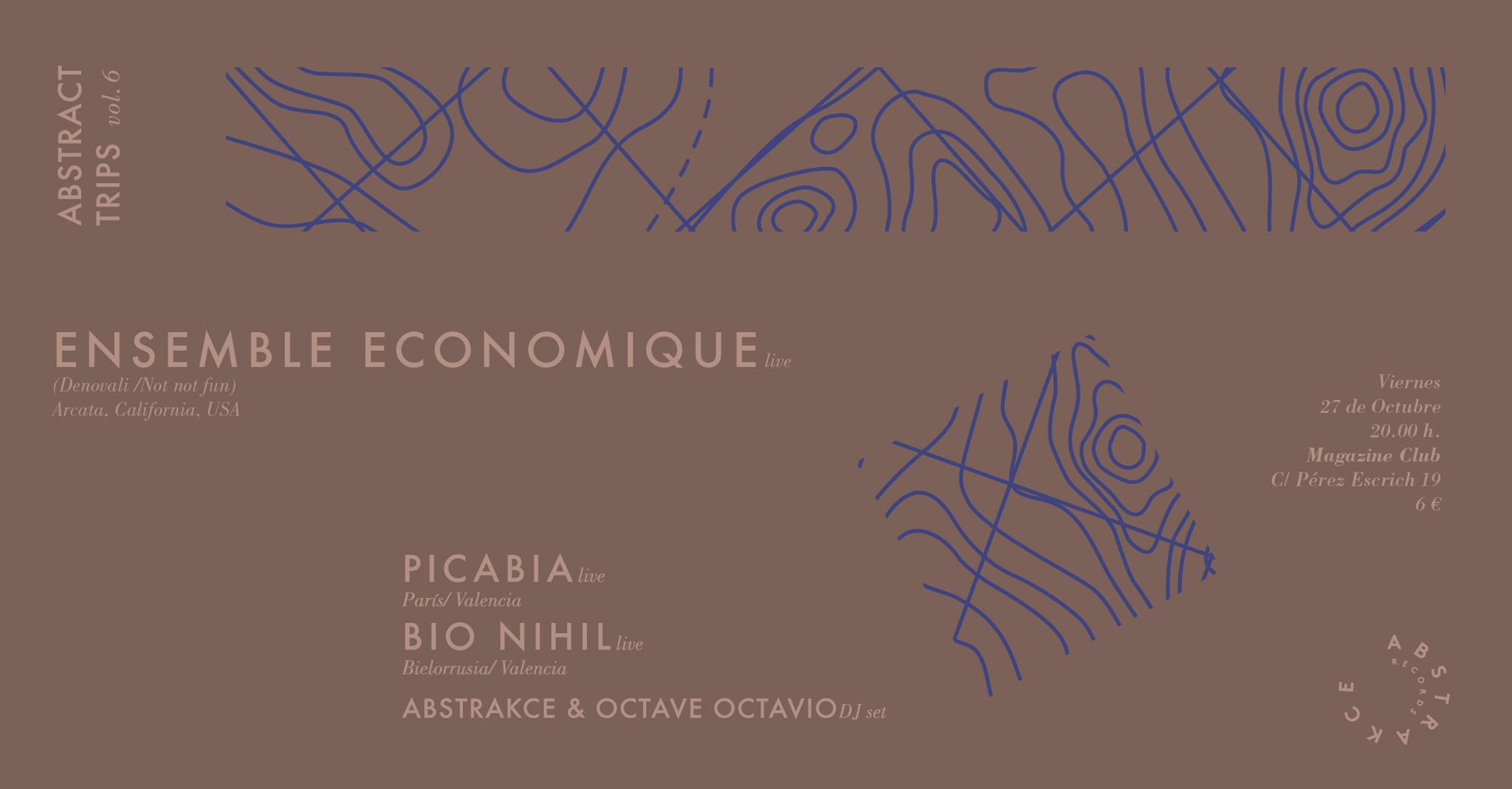 Abstract Trips Vol. 6: Ensemble Economique, Bio Nihil, Picabia
Abstract Trips es un ciclo de conciertos organizado por Abstrakce Records en forma de viajes mentales a lugares desconocidos.
En esta edición presentamos a Ensemble Economique, el proyecto del Brian Pyle, uno de los músicos más singulares y activos del underground experimental Norteamericano. El californiano lleva ya 10 años con este proyecto, trabajando con sellos como Not Not Fun, Digitalis, Hands in the Dark… En esta ocasión viene a presentarnos el que es su undécimo Lp, editado por el prestigioso sello Denovali.
Hace algunos años ya lo pudimos ver en Valencia junto a Umberto en un directo perfecto: psicodelia electrónica, toques de ambient, drone, dark wave, shoegaze, voces con ecos, ritmos abstractos, grabaciones de campo … en definitiva, música enigmática, envolvente y minimalista.
https://soundcloud.com/ensemble-economique
PICABIA, multi-instrumentista nacido en Paris, presenta un proyecto electroacústico influenciado por la búsqueda espiritual de Pharoah Sanders y Terry Riley, las experimentaciones timbrales del espectralismo y los ritmos sincopados de las tradiciones centroafricanas entre otros.
Su música y su estilo está en constante evolución y va cogiendo cada vez más cuerpo, así que hay expectación por ver qué nos ofrecerá en esta ocasión.
https://soundcloud.com/picassiette
BIO NIHIL es el proyecto en solitario de Eugen, componente de una de nuestras bandas locales favoritas: AMOR. El músico Bielorruso residente en El Cabanyal ya es conocido por aquí por su actitud en el escenario, y promete una sesión de drone industrial y loops chamánicos en idiomas que no reconocemos.
https://soundcloud.com/bio-nihil
Después del concierto pondremos discos en compañía de Octave Octavio (nuestro amigo Pablo de Picabia), música que nos gusta para haceros bailar: kraut, new wave, kosmische…
Entrada: 6 €
——————
Abstract trips is a series of gigs organized by Abstrakce Records. A mental travel to unknown places.
In this edition we present to Ensemble Economique, the project of Brian Pyle, one of the most singular and active musicians of the North American experimental underground. This Californian has been with this project for 10 years, working with labels such as Not Not Fun, Digitalis, Hands in the dark … Now presenting us his eleventh Lp, edited by the prestigious Denovali label.
He played in Valencia some years ago with Umberto in a perfect live gig: electronic psychedelia, ambient, drone, dark wave, shoegaze, voices with echoes, abstract rhythms, field recordings … enigmatic and minimalist mmusic
https://soundcloud.com/ensemble-economique
PICABIA, a multi-instrumentalist born in Paris, presents an electro-acoustic project influenced by the spiritual search of Pharoah Sanders and Terry Riley, the timbral experiments of spectralism and the syncopated rhythms of the Central African traditions, among others.
His music and his style is in constant evolution and is getting stronger, so there is expectation to see what it will offer us on this occasion.
https://soundcloud.com/picassiette
BIO NIHIL is Eugen's solo project, part of one of our favorite local bands: AMOR. The Belarusian musician residing in El Cabanyal is already known here for his attitude on stage, and promises an industrial drone session and shamanic loops in languages we do not recognize.
https://soundcloud.com/bio-nihil
After the concert, we will play records along with Octave Octavio (our friend Pablo from Picabia), music that we like to make you dance: kraut, new wave, kosmische…
Tickets: 6 €