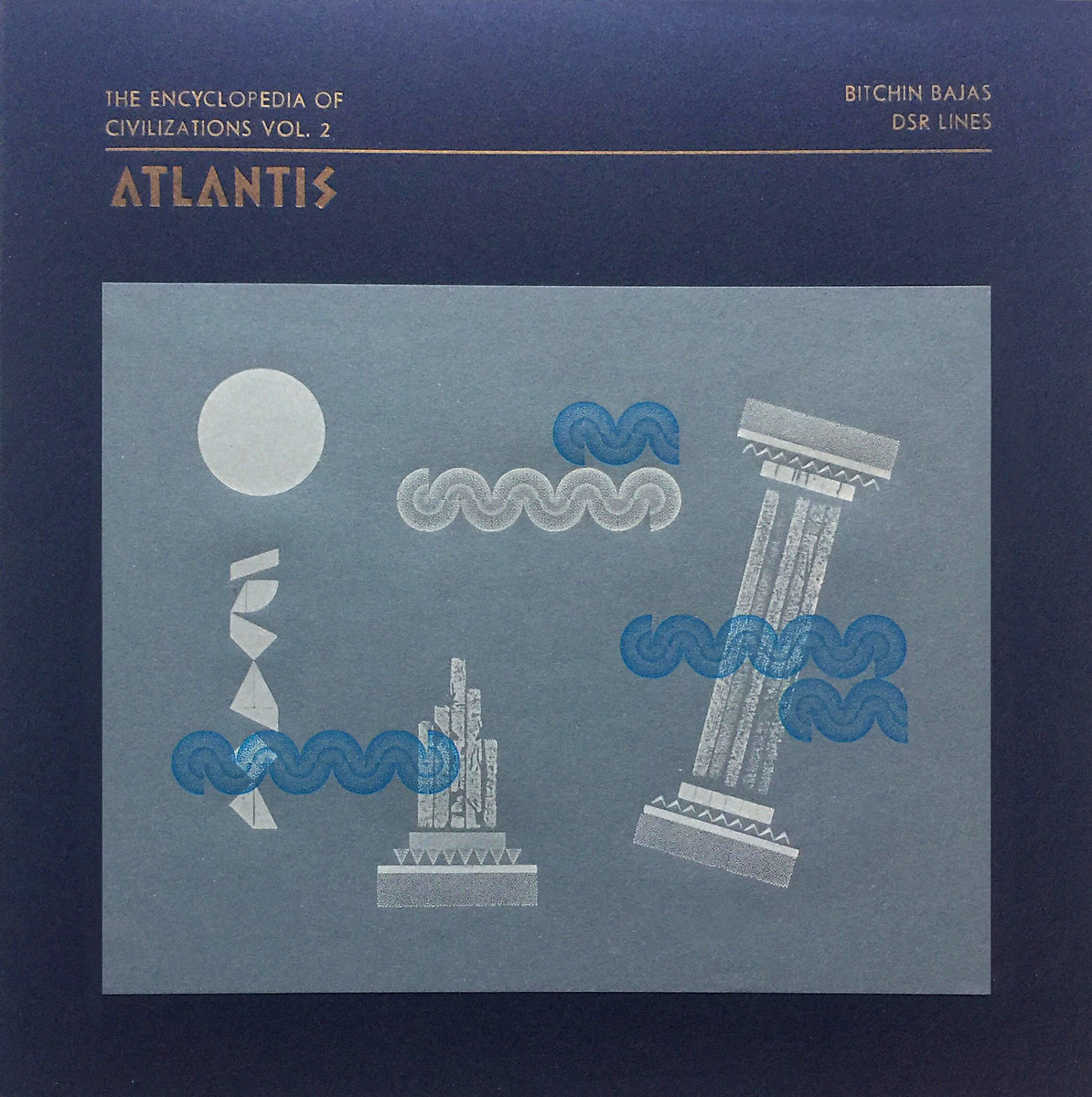 ABST 05 – BITCHIN BAJAS / DSR LINES "The Encyclopedia of Civilizations vol. 2: Atlantis" Lp (Sold Out)
ABST 05 – BITCHIN BAJAS / DSR LINES "The Encyclopedia of Civilizations vol. 2: Atlantis" Lp
500 copies (Sold Out)
________________________________________________________________
Second volume of "The Encyclopedia of Civilizations", a collection of split LP's where selected artists offer their own insight into fascinating ancient cultures.
In this volume the music is inspired by Atlantis, a legendary civilization surrounded by mystery. The LP is presented in a special limited edition (500 copies) with an extensive booklet that tries to shed some light on the myth of Atlantis and will help you to immerse yourself in this fascinating civilization while you listen to the music. The sleeve is printed in the old way, letterpressed with metal movable type as Gutenberg used to do it, as all of the Abstrakce editions.
DSR lines is the project of Belgian electronic artist David Edren. He's been releasing his music for almost two decades on labels such as Ultra Eczema, JJ Funhouse or Black Sweat. His Atlantis tracks are one of his best works (if not the best) so far, developing an exquisite use of modular synths. David presents a mature work, the result of an intense experimentation with synths such as Buchla 200 or Serge Synthesizer Systems. His arpeggios and oscillations sound like music that would be played in an Atlantean temple worshiping an ancient god (probably Poseidon or Minos) if this wise civilization had reached our days. Organic minimal electronics developing a very personal sound, a spiritual approach that could be a modern continuation of the investigations started by JD Emmanuel, Ariel Kalma or Michael Hoenig.
Bitchin bajas is the project by Cooper Crain (also from the band Cave), Dan Quinlivan and Rob Frye. They have released material on labels such as Permanent records, Drag City, Hands in the Dark and Important records. They present an astonishing 20-minute-track inspired by the diaspora of the Atlantean people after the great cataclysm that sank their island at the bottom of the ocean and plunged its splendor into darkness forever. Warm, instrumental, psychedelic and melodic music that drinks from the electronic minimalism of the 60s and 70s (Terry Riley, La Monte Young..) blended with the spatial feeling of the kosmische maestros (Klaus Schulze,Harald Grosskopf, etc.). Deep electronics, hypnotic pulses and enigmatic melodies introducing acoustic instruments such as flutes or xylophones that will make you float in space while thinking about our Atlantean ancestors.
Abstrakce Records is a BFE Records subdivision and I have no idea if it has a mission statement or anything, but I enjoyed the Colin Potter (see Vital Weekly 1111) and The Legendary Pink Dots (see Vital Weekly 1023) releases they did. I didn't hear the others so far. I am not sure if I heard of DSR LInes or Bitchin Bajas before. Their split LP is inspired by the story of Atlantis and is outlined in a beautifully printed booklet (cover is also of the same high quality; all "letterpressed with metal movable type as Gutenberg used to do it, as all of the Abstrakce editions"). DSR Lines is David Edren, who released before on Ultra Eczema, JJ Funhouse and Black Sweat, and he is all about using modular synthesizers, such as Buchla 200 and Serge Synthesizer Systems. With his music we leave the 80s and return to the mid 70s and think of Tangerine Dream and Klaus Schulze. Neat arpeggios roll about, like tinkling wind chimes outside and on top sparse melodies are played. Music that sounds like under water bubbles, but surely it is not DSR Lines' intention to make that connection to Atlantis being consumed by the sea. This is very friendly and easy going music. Very cosmic, which is something that can also be said of the other side, by Bitchin Bajas.
This is a trio with Cooper Crain (also from the band Cave, apparently), Dan Quinlivan and Rob Frye. Permanent Records, Drag City, Hands in the Dark and Important Records all have released music from them. Their take on the cosmic music is a tad more experimental and little bit abstract and dwells less on the use of arpeggio's as they are just present in the second half of this side long piece of music, but white noise sounding sea waves combined with some acoustic instruments such as a flute. The overall mood is a bit darker, certainly compared to the music of DSR Lines and certainly could be a reference to Atlantis' fate.