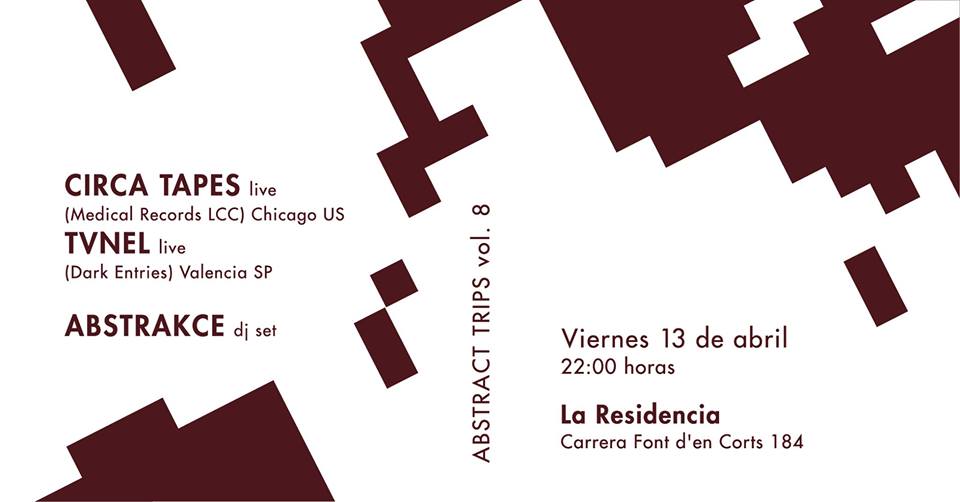 Abstract Trips Vol. 8: Circa Tapes + Tvnel
ABSTRACT TRIPS Vol.8 _ CIRCA TAPES _ TVNEL
En este nuevo volumen de Abstract Trips tendremos a Circa Tapes, músico de Chicago que viene presentando su último discazo en Medical records, "Love and Venom",
"Tercer álbum de larga duración de Circa Tapes (proyecto en solitario de Adam Killing de Kill Memory Crash). Tras excelentes lanzamientos previos en Romance Moderne y DKA, este tercer álbum muestra la evolución de la mancha de Killing sobre la capacidad de mezclar magistralmente sintes oscuros de principios de los 80 y cold wave en una entidad completamente nueva. Mucho más pesado y maravillosamente más oscuro, este LP atraerá a fanáticos de clásicos como Cabaret Voltaire y Skinny Puppy, así como a contemporáneos de EBM de última generación como Broken English Club, Boy Harsher y otras híbridos cold wave/ industriales. " -Info de Medical Records-
"Sus Influencias van desde el industrial de principios de los 80, la cold wave y el synth pop hasta el electro de Detroit y el techno, además de sonidos noise y shoegaze. Circa Tapes mezcla todos los géneros oscuros, utilizando equipos analógicos y digitales para crear una mezcla de producción limpia y sucia … "
https://circatapes.bandcamp.com/
Para abrir la noche nadie mejor que TVNEL.
https://tvnel.bandcamp.com/
Noche de electrónica, ebm, minimal wave… en un sitio idilico y paradisiaco como La Residencia!!
——
In this new volume of Abstract Trips we're having Circa Tapes, musician from Chicago who comes on tour with his amazing last LP in Medical Records, "Love and Venom".
"Third full length album by Circa Tapes (solo project of Adam Killing of Kill Memory Crash). Following excellent previous releases on Romance Moderne and DKA, this third album displays the evolution of Killing's spot on ability to masterfully blend dark early 80s synth, industrial and cold wave into a completely new entity. Much heavier and wonderfully darker, this LP will appeal to fans of classics like Cabaret Voltaire and Skinny Puppy, as well as cutting edge EBM contemporaries such as Broken English Club, Boy Harsher and other cold wave / industrial hybrids." Medical records info
"Mending influences from early 80s Industrial, Cold Wave, Synth Pop to Detroit Electro and Techno as well as the sounds of Shoegaze and Noise. Circa Tapes bends all dark genres into composition. Using both analog and digital equipment to create a blend of both clean and filthy production…"
To start the night nothing better than TVNEL:
https://tvnel.bandcamp.com/