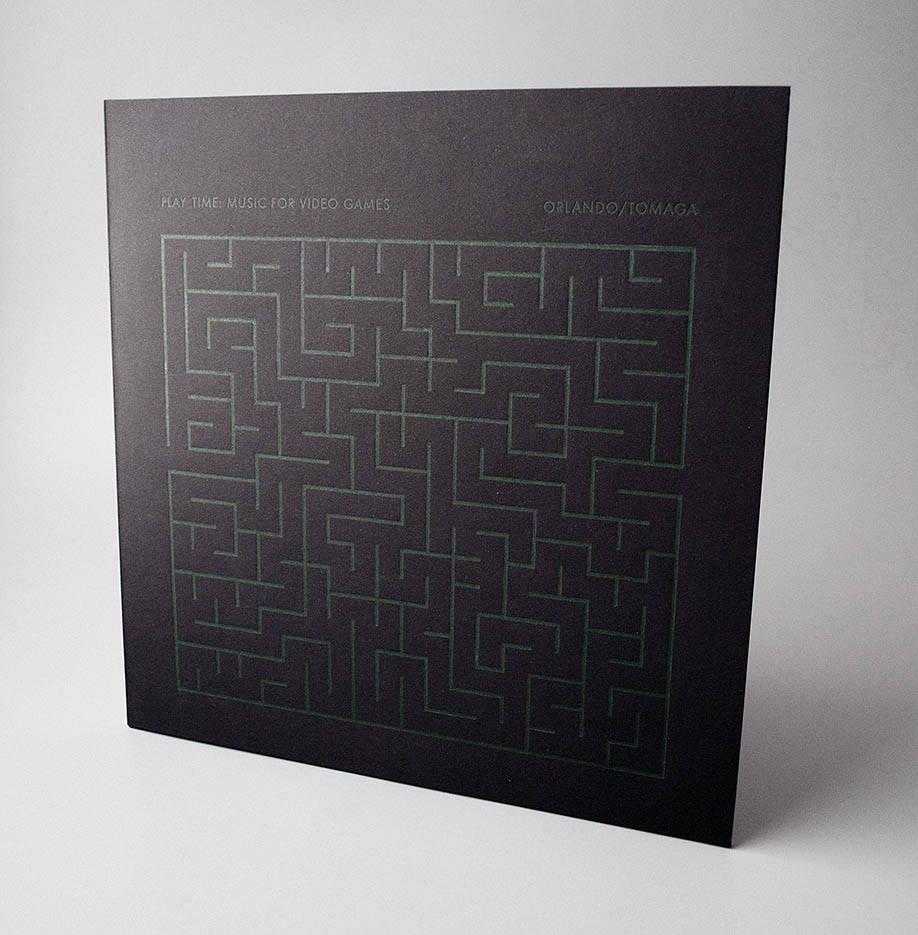 ABST 02 – ORLANDO / TOMAGA "Playtime: Music For Videogames" Lp (Sold Out)
ABST 02 – 300 copies  (Sold Out)

__________________________________________________________________
Vinyl edition from this imaginary soundtrack for videogames previously released on tape.
"…the Association for the Re-Alignment of Magnetic Dust presents a split release between Orlando and Tomaga of music for video games. Inspired by fictional worlds, imagined quests, and surreal dreams, they soundtrack your adventures in gameland."
"Cathy Lucas's new project Orlando, who share this cassette/download release with Tomaga. RAM Tapes (or The Association for the Re-Alignment of Magnetic Dust to give them their full title) re-use old tapes for that essential crackle and pop experience, and the theme is suitably 80s: video game soundtracks, kerbside frogs, ghost mazes, etc. It's too sophisticated – at least to these cloth ears – to be just more chiptune landfill but it's extremely playful all the same. The Orlando side is closer to Cornelius in terms of its invention and charm; the Tomaga side is a little more spacious, dubby, dronish. As an album it's a pretty irresistible combination.
Orlando's opening track brings you the croaks of a telepathic amphibian, a bit of bossa nova and a steely science-fictional theme, all in 3 minutes and 25 seconds.
While Tomaga's 'Giant Bitmap' made me wonder whether Pacman ever got the cold sweats while cruising those haunted midnight mazes…" Both Bars On
"TOMAGA channel various forms of multi-instrumentalism into music that moves by turns through industrial, jazz, psychedelia and minimalism, on it's way to somewhere wholly other. Devoted to musical exploration, this London based duo obsessively deconstruct familiar tropes, looking for the tension that lies between improvisation and form.
After their first, self-produced cassette, 'Sleepy Jazz For Tired Cats', which was released in 2013, TOMAGA released the acclaimed 'Futura Grotesk' LP on the Hands in the Dark label, followed quickly by 'Familiar Obstacles' – a cassette release for the boutique London label Blank Editions, that was subsequently released as a limited vinyl in October 2015.
Meanwhile they have played countless concerts and festivals across the world including being invited to open for Deerhoof, Silver Apples and Wire, the latter for their UK tour in May 2015 (for full tourdates see below).
In autumn 2015 Tomaga were invited by Turner Contemporary Gallery in Margate to stage a performance using the artworks of Pedro Reyes: re-conditioned weapons confiscated by Mexican police from drug cartels and turned into instruments. The resulting performance will be released on a forthcoming live album. In spring 2016 Tomaga were invited to contribute a sound object to the Yoko Ono exhibition 'Lumiere De L'aube' at the Musee D'art Contemporain De Lyon." JULIE TIPPEX web info
Limited edition of 300 copies. Letterpress printed on black cardboard. Limited edition with green ink.
Price 18 euros / Wholesale price 12,50

ABSTRAKCE Records
https://soundcloud.com/abstrakce / https://abstrakce.bandcamp.com /
https://www.facebook.com/Abstrakce_Records-1602941846662715 /
Guardar