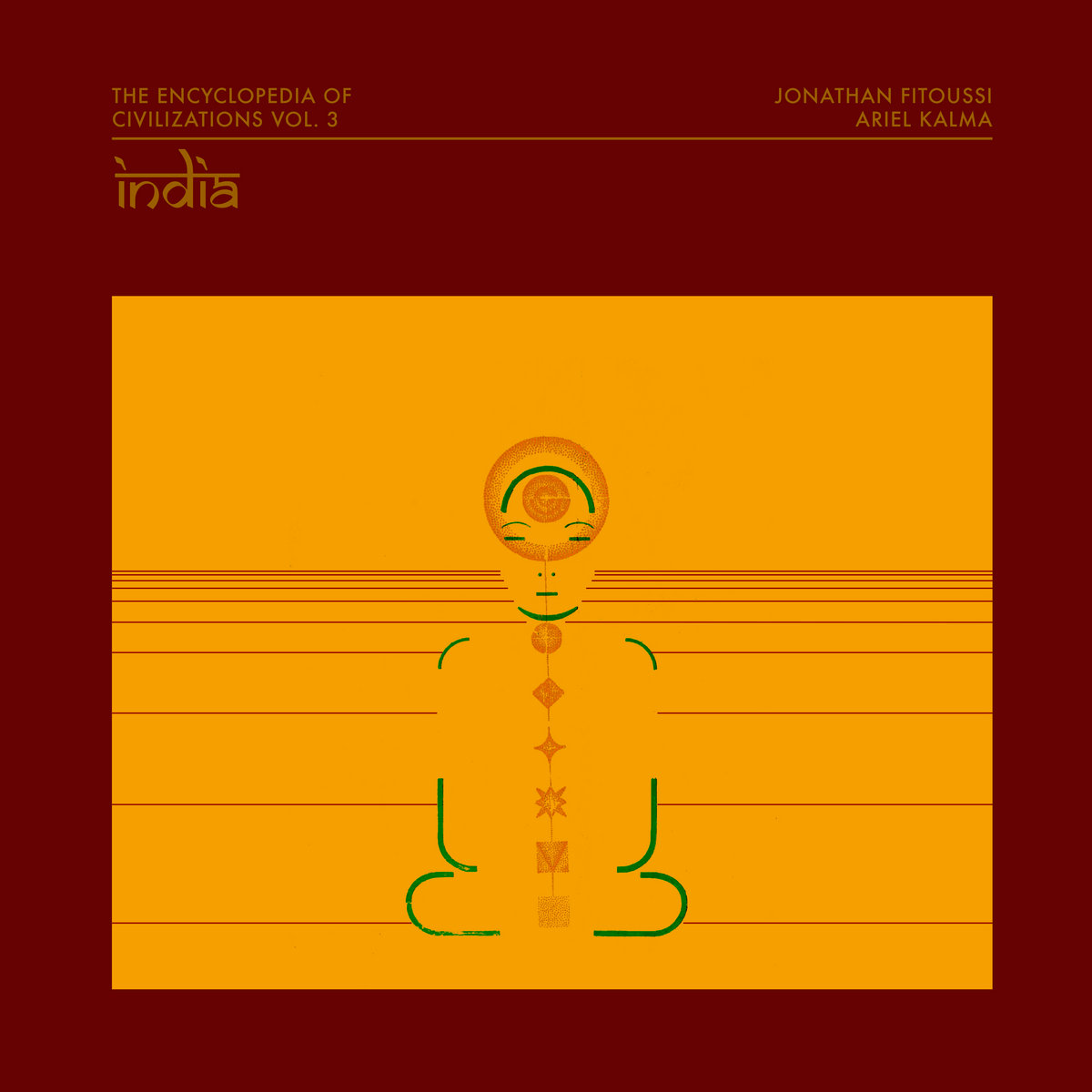 ABST 12 – JONATHAN FITOUSSI / ARIEL KALMA "The Encyclopedia of Civilizations vol. 3: India" LP (Sold Out)
ABST 12 – JONATHAN FITOUSSI /ARIEL KAMA "The Encyclopedia of Civilizations vol. 3: India" LP
500 copies (Sold Out)
______________________________________________________
Third volume of "The Encyclopedia of Civilizations", a collection of split LP's where selected artists offer their own insight into fascinating ancient cultures. This time we bring you a cosmic and spiritual ambient journey inspired by one of the greatest ancient civilizations: India.
The LP is presented in a special limited edition (500 copies) with an extensive booklet including liner notes about the origins of India to help you to immerse yourself in this fascinating civilization while you listen to the music. The sleeve is printed in the old way, letterpressed with metal movable type as Gutenberg used to do it.
"Veda" was composed & performed live on October 13, 2018 by Jonathan Fitoussi at Gesu Church, Toulouse, France using the 1864 church pipe organ and an EMS SYNTHI synthesizer. The track was inspired by readings about the ancient sacred Hindu texts known as the Vedas. A sustained, warm and deep float supported by the centennial pipe organ and the the church's natural reverb.
"Yin Yang" was conceived by Ariel Kalma in 1975 while taking music lessons in India. It brings into a lovely meditative state with those long, long 'pranayama' breathing notes.
"Flute Meditation" is actually two Kalma pieces blended together. The first part was recorded in 2017 and played on a floating xaphoon mini sax. The second part is from 1979, recorded with an Indian bamboo flute, saz, electric piano. It was originally much longer, adapted here for one side of the LP.
Wind melodies, polyphonic color, ambient space, setting modal flute melodies and nature field recordings. The results collapse distinctions between "electro-acoustic", "biomusicology" and "ambient" categorization.
Jonathan Fitoussi is a French composer residing in Paris. He works on minimalist and contemporary musical forms exploring a fusion of electronic and acoustic sounds with melodic textures, colors and emotions in a cinematographic aesthetic style. As a composer of electronic music, Jonathan Fitoussi is engaged in practices of analog and modular synthesis, projects supported by the pioneers of electronic music like Suzanne Ciani and Morton Subotnick.
Ariel Kalma, was born in Paris and learned to play recorder and saxophone as a youth. He studied computer science in college, and while at university he met Salvatore Adamo, who soon hired Kalma into his touring band on a world tour as a saxophonist and flautist. Around this time, he made experimental tape pieces using his own recorded instruments, found sounds, church organs, and poetry.
In 1974 he took a one way plane to in India, learning rudimentary classical Indian music and developing an interest in meditative and drone music. He was also influenced by American minimalist music. In 1975, he recorded and self-released an album, Le Temps des Moissons while working at the GRM studio of INA Pierre Henry in Paris. His 1978 album Osmose features Borneo rainforest nature sounds recorded by Richard Tinti. Over 4 decades, Ariel Kalma published several vinyl LP's, cassettes, and CD's. His compositions have been used for modern dance-theatre, films, musical poetry, guided meditations and transformational groups.