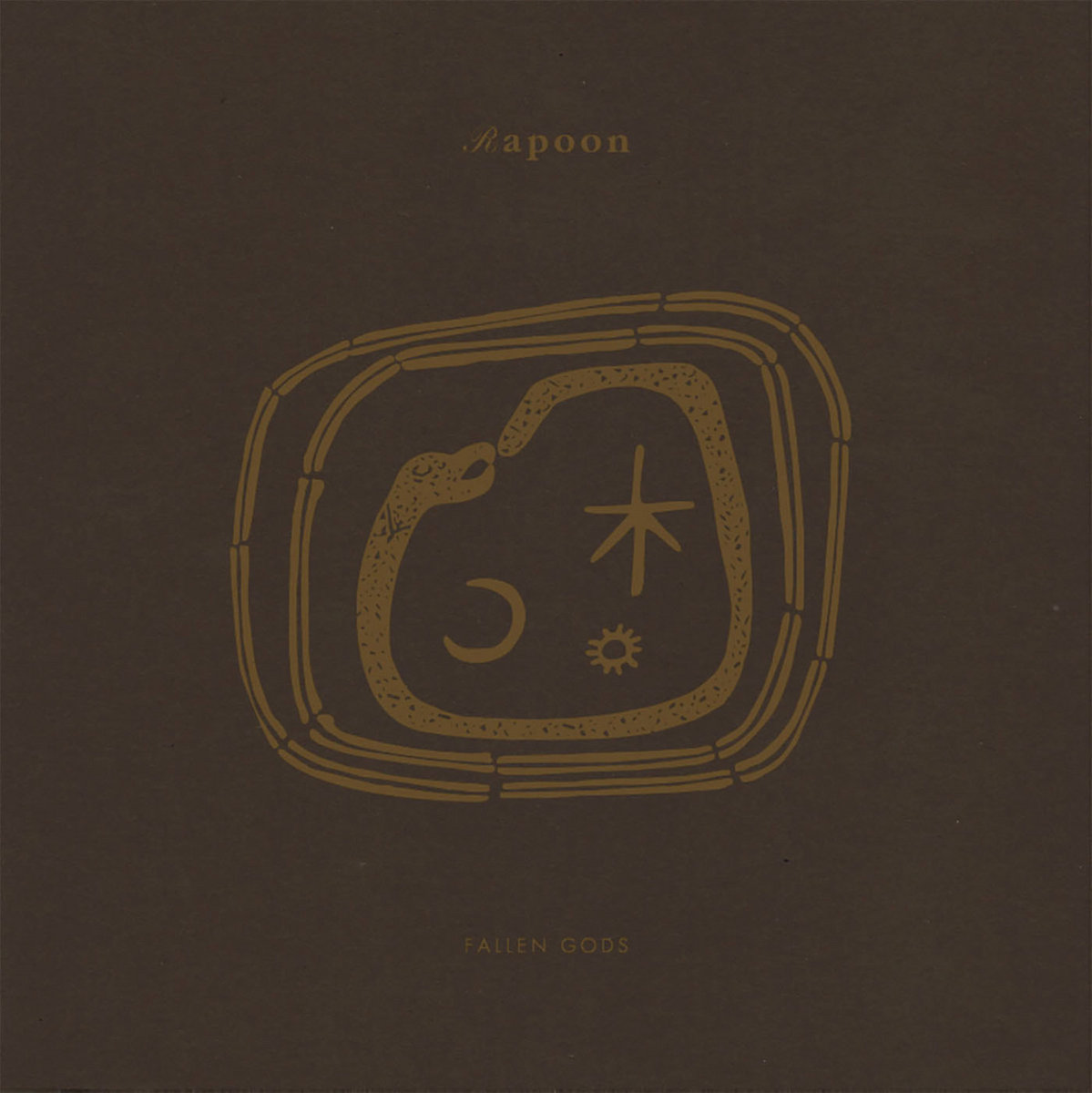 ABST 024 RAPOON – Fallen Gods 2LP
'Fallen Gods' is the third studio album by Rapoon aka Robin Storey, formerly of :zoviet*france:. Originally released in 1994, 'Fallen Gods' emerged amid a prolific early period for the Rapoon project, following in the wake of debut album 'Dream Circle' – originally released in 1992 – and second outing 'Raising Earthly Spirits', released a year later. Building on the haunting industrial ethers of 'Dream Circle' and the esoteric, rhythmic drone of 'Raising Earthly Spirits', 'Fallen Gods' consolidates many of the sounds and disciplines that had shaped Storey's work up to this point, while indicating a newfound, concerted focus on classical Indian instrumentation. The results represent a synthesis of myriad ideas, rooted in the duality between modernity and mysticism.
Throughout 'Fallen Gods' the reverberant pulse of Tabla-led percussion and the remote tones of what sounds like the Bulbul tarang (aka Indian banjo) resound and repeat in locked instrumental cycles, as vast, atmospheric shadows and echoes are unfurled. On 'Sanctum' Storey creates a mesmeric form of ceremonial indigenous music and with 'Iron Path' combines ramshackle, automotive percussion and distant zither-like emanations. Intensities are heightened with the title track, as Storey delivers a sidereal melee of barrelling drum sequences, gleaming ambient vapours, and stuttering glossolalia. In these opening exchanges, as with much of 'Fallen Gods', archaic modes of musical performance are uniquely reconstructed, as organic elements are subjected to inventive technological processes; primitivism made mechanical.
Presenting a pure vista of celestial drone on 'Breathing Gold', the album resumes a hypnotic, scrupulous exploration of perpetual drum cadences, deep modulations of traditional instrumentation and prodigious ripples of spectral, otherworldly resonances on 'Sataranum' and 'Sacrement'. Works of infinite circular rhythms. From here the unadorned ancient tones of 'Khomat' and the chasmal nomadic roots music of 'Dusk Red Walls' present a shift in momentum, a sense of pause and suspended reflection, before the ascendant finale of 'Valley', a coda of undulating keys, expansive FX, and condensed surges of sampled percussion. Altogether these compositions form a deeply arresting body of work that is arguably considered one of Storey's finest works, a record that still sounds both completely original and remarkably timeless.
An enigmatic landmark in Storey's early solo output, 'Fallen Gods' sees the sound world of the Rapoon project reiterated, expanded and memorably enriched. Across nine tracks Storey weaves together indeterminate, sonorous currents of ambient and experimental electronics with magnetic, sprawling passages of acoustic instrumentation, creating a profound work of entrancing, ritualistic minimalism. Comparisons could be drawn with the panoramic soundscapes of Lustmord, the fourth world ambitions of Jon Hassell, the heavy outernational psychedelia of Psychick Warriors ov Gaia but really 'Fallen Gods' illustrates an artist establishing their own trajectory, a distinct indication that Storey had moved way beyond :zoviet*france:. into the flourishing territories and intricate sound environments of the Rapoon project.
Limited edition of 500 copies. Remastered by Colin Potter (Nurse With Wound).