Multi-disciplinary artist Robin Storey (ex-:zoviet*france) aka Rapoon reissueslandmark early solo work 'Fallen Gods'
Sonorous ambient experimentation, classical Indian instrumentation, ceremonial indigenous music; a work of entrancing, ritualistic minimalism
RIYL Lustmord, Jon Hassell, Psychick Warriors Ov Gaia
Limited Edition Vinyl & Digital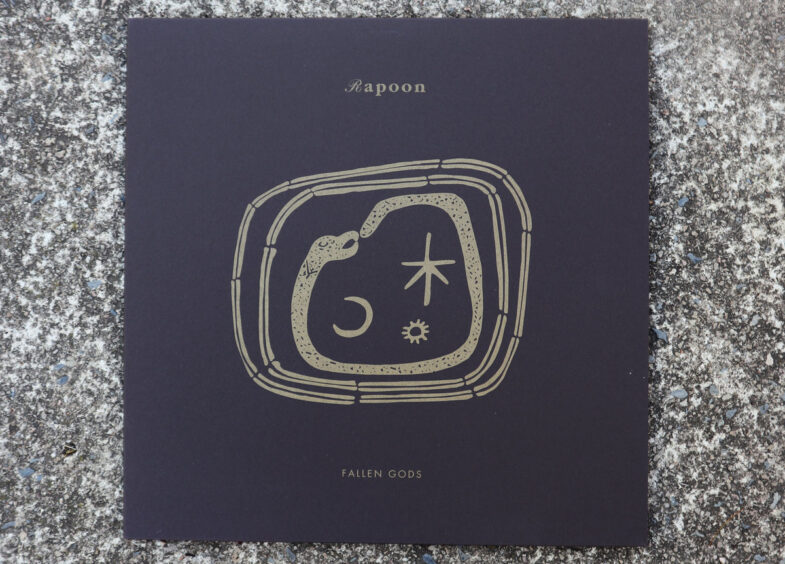 Artist: Rapoon
Title: 'Fallen Gods'
Release Date: 27th December 2021
Label: Abstrakce Records
Format: Limited Edition Vinyl / Digital Download
Catalogue Number: ABST 024
'Fallen Gods' is the third studio album by Rapoon aka Robin Storey, formerly of :zoviet*france:. Originally released in 1994, 'Fallen Gods' emerged amid a prolific early period for the Rapoon project, following in the wake of debut album 'Dream Circle' – originally released in 1992 – and second outing 'Raising Earthly Spirits', released a year later. Building on the haunting industrial ethers of 'Dream Circle' and the esoteric, rhythmic drone of 'Raising Earthly Spirits', 'Fallen Gods' consolidates many of the sounds and disciplines that had shaped Storey's work up to this point, while indicating a newfound, concerted focus on classical Indian instrumentation. The results represent a synthesis of myriad ideas, rooted in the duality between modernity and mysticism.
Throughout 'Fallen Gods' the reverberant pulse of Tabla-led percussion and the remote tones of what sounds like the Bulbul tarang (aka Indian banjo) resound and repeat in locked instrumental cycles, as vast, atmospheric shadows and echoes are unfurled. On 'Sanctum' Storey creates a mesmeric form of ceremonial indigenous music and with 'Iron Path' combines ramshackle, automotive percussion and distant zither-like emanations. Intensities are heightened with the title track, as Storey delivers a sidereal melee of barrelling drum sequences, gleaming ambient vapours, and stuttering glossolalia. In these opening exchanges, as with much of 'Fallen Gods', archaic modes of musical performance are uniquely reconstructed, as organic elements are subjected to inventive technological processes; primitivism made mechanical.
Presenting a pure vista of celestial drone on 'Breathing Gold', the album resumes a hypnotic, scrupulous exploration of perpetual drum cadences, deep modulations of traditional instrumentation and prodigious ripples of spectral, otherworldly resonances on 'Sataranum' and 'Sacrement'. Works of infinite circular rhythms. From here the unadorned ancient tones of 'Khomat' and the chasmal nomadic roots music of 'Dusk Red Walls' present a shift in momentum, a sense of pause and suspended reflection, before the ascendant finale of 'Valley', a coda of undulating keys, expansive FX, and condensed surges of sampled percussion. Altogether these compositions form a deeply arresting body of work that is arguably considered one of Storey's finest albums, a record that still sounds both completely original and remarkably timeless.
An enigmatic landmark in Storey's early solo output, 'Fallen Gods' sees the sound world of the Rapoon project reiterated, expanded and memorably enriched. Across nine tracks Storey weaves together indeterminate, sonorous currents of ambient and experimental electronics with magnetic, sprawling passages of acoustic instrumentation, creating a profound work of entrancing, ritualistic minimalism. Comparisons could be drawn with the panoramic soundscapes of Lustmord, the fourth world ambitions of Jon Hassell, the heavy outernational psychedelia of Psychick Warriors ov Gaia but really 'Fallen Gods' illustrates an artist establishing their own trajectory, a distinct indication that Storey had moved way beyond :zoviet*france:. into the flourishing territories and intricate sound environments of the Rapoon project.
The reissue of 'Fallen Gods' is out on the 27th December via Abstrakce Records.
Available on Limited Edition Vinyl & Digital Formats.
Tracklist
1 | A1 – Sanctum
2 | A2 – Iron Path
3 | B1 – Fallen Gods
4 | B2 – Breathing Gold
5 | C1 – Sataranum
6 | C2 – Sacrement
7 | D1 – Khomat
8 | D2 – Dusk Red Walls
9 | D3 – Valley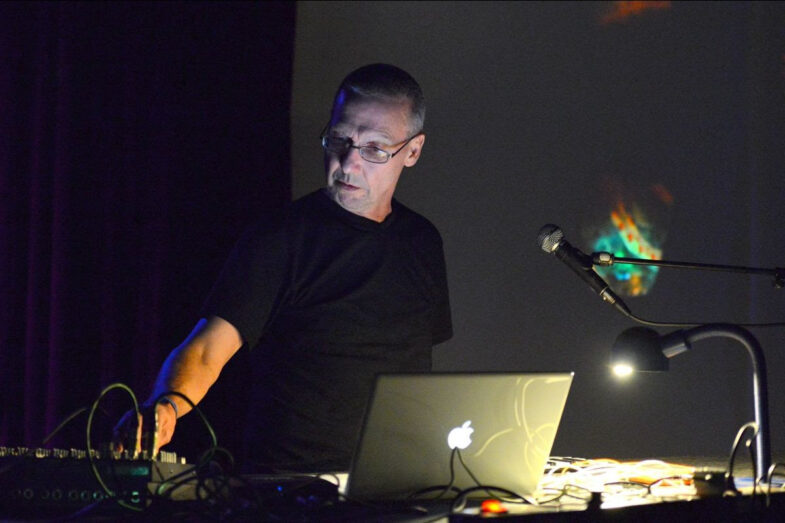 Rapoon is the solo project of Robin Storey, a multi-disciplinary artist and engineer from Cumbria, England. While studying fine art at Sunderland University, Storey began pursuing an interest in sound production, taking classes in electronic and experimental composition, and working under the tutelage of contemporary modernist composer Dave Pinder.
Primarily influenced by early 70s krautrock and Karlheinz Stockhausen, Storey co-founded the pioneering post-industrial group :zoviet*france: in 1980, with Ben Ponton and Peter Jensen. Shaped by an elusive, dynamic approach to electronic music, and incorporating dissonant noise, ambient soundscapes, field recordings, tape loops, found objects, and improvised acoustic instrumentation, the original incarnation and material of :zoviet*france: has proved perennially influential. Storey's background in fine art as well as his training and subsequent teaching in printmaking and graphic art would inform the distinctive artwork of :zoviet*france: during this time, an aesthetic often characterized by handmade sleeves and striking DIY imagery. Storey remained an active member of the group until 1992.
The same year Storey issued 'Dream Circle', the debut album by Rapoon, a solo project that has continued up to the present day, with an extensive catalogue of material released on labels including Staalplaat, Vinyl-On-Demand, Klanggalerie and Soleilmoon Recordings.
In addition to his work in :zoviet*france: and his solo material as Rapoon, Storey performs and records together with Mark Spybey (formerly of :zoviet*france:, currently Dead Voices On Air) as Reformed Faction and with Nigel Ayers (Nocturnal Emissions) as Hank and Slim. Storey has also collaborated widely with other artists, recording output with Joachim Roedelius (Cluster, Harmonia), Steven Wilson (Bass Communion, Porcupine Tree), Désaccord Majeur, noise music composer Randy Greif, Russian folk singer Tatyana Stepchenko aka Toloka, Pas Musique, and more.
Storey has produced soundtrack material for award-winning independent films including Randy Grief's 'The Three Trials' and 'Effaced' by New York-based independent artist Nadine Shamounki. He has also contributed soundtrack work to Maxim Zaharov's film 'Boring' as well as a film made for Channel 4 by acclaimed electronic musician and soundtrack composer David Holmes ('Killing Eve', 'Ocean's trilogy', ''71') entitled 'I Am Here'. In 2019 Storey co-produced – with Ben Ponton – the music for the documentary short 'In Trance We Gaze' by the Taiwanese director Singing Chen, a short which was screened at both the Taiwan International Film Festival and the London International Film Festival.
Storey's work as Rapoon has been featured in a short film entitled 'Nonexistent Tribes' by the Ukrainian artist Oksana Levchenya, made to accompany an exhibition of textiles, masks and installations shown at the Centre for Contemporary Art in Kiev. Rapoon was also featured in the opera 'La Songe De Sonia' shown at Lyon's Théâtre des Célestins in 2015 and at The KnAM theatre in Russia's Khabarovsk region.
Storey has ventured into sound art, producing work for installations and contemporary conceptual art, including contributions to the 1997 exhibition 'Ear As Eye' and the 2007 project 'Otherness', which featured the likes of Eno & Cluster, Faust and Stockhausen, both shown in Los Angeles. Storey has also contributed to the 2013 London exhibition 'Noise and Whispers' and to 'Grasslands Dream of Electric Sheep', displayed at the Loop30 gallery in Augsburg, Germany.
Besides his acclaimed work as a solo and collaborative composer Storey is a renowned visual artist and animator and has exhibited his work internationally, embarking on tours across Eastern Europe and the United States. Storey has released his own visual counterpart to the Rapoon material in the form of 'Alien Glyph Morphology', a suite of six short movies featuring his artwork, issued on DVD by Soleilmoon Recordings, and has also published a short story book entitled 'A Pale Blue Door', accompanied by Rapoon compositions.
Storey has made further interdisciplinary forays, producing music and visuals for a dance-based collaboration with the professional dancer and choreographer Johanna Devi, performed at London's Bloomsbury Theatre in 2011. Later the same year Storey collaborated with Devi again, as well as the dancer Eva Isolde Balzar, on the Berlin dance production 'Hybrid Identities'.
Operating across numerous fields of experimental music and visual art, Storey is an internationally renowned artist with a storied career in recording, collaboration, and multi-faceted creativity.