Tools You Can Trust – Working and Shopping LP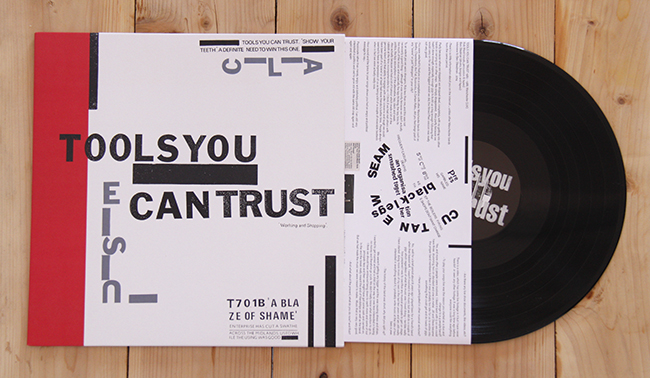 After one year working on this record and compiling the songs, images, info, getting the mastering done, doing an interview, etc … it´s finally out!!
Excellent post punk / industrial / no wave from this underrated and overlooked band from Manchester. Creating music from a mixture of drums and metal percussion, with only minimal use of guitars, and strongly politicised lyrics.
1982 – 1988. Manchester (U.K)
This record include the 7"´s, 12″ and songs from the Peel sessions
"The hillbilly howling of Alan Vega turned into a  tight, monochrome cockney mantra giving an answer to the New york no wave. However,  they claimed they came from the tradition that Link Wray and Duane Eddy had started. This space showed up in the rigid structure of his songs. They came from Manchester and they came before the dance scene emerged from Manchester.  Anyway, you can dance to their songs, or rather hit and dance, that is. Here you have a compilation with his first 7" and some Peel Sessions you can hear for the first time." Review by Elvis Von Doom
Remastered in Sountess Studio / LP 180 gr / Download code inside /
Very limited edition 270 copies / 14 euros / Ask for wholesale price
Bandcamp
Discogs
Working and shopping
Messy body thrust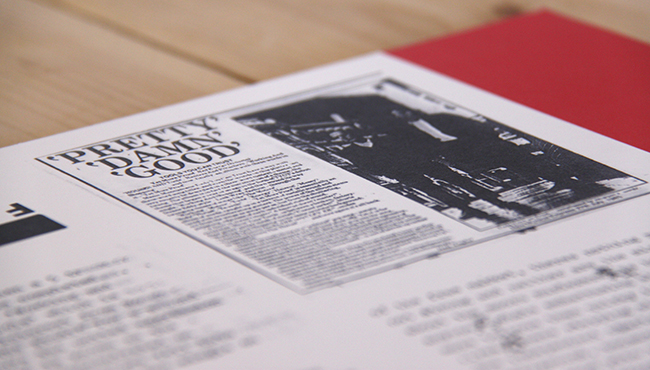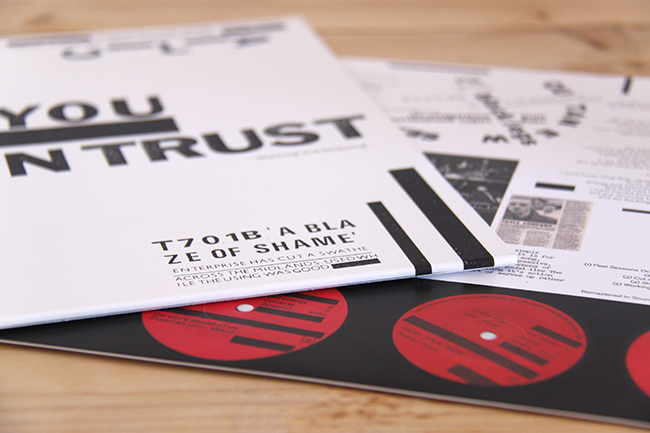 TOOLS YOU CAN TRUST
Rob Ward (vocals, percussion & tapes)
Ben Stedman (drums, bongos and tapes)
1982 – 1988. Manchester (U.K)
A/ Working And Shopping (1)
Say It Low (2A)
A Blaze Of Shame (2B)
Cut A New Seam (3A)
A Knock For The Young (3B)
Show Your Teeth (4A)
B/ Messy Body Thrust (4B)
Working And Shopping (5A)
The Work Ahead Of Us (5B)
Ranters And Preachers (6)
Blowin Up A Storm (6)
A Knock For The Young (7)
Crammed Down The Throat (7)
(1) Peel Sessions Oct 10, 1983 ("Manchester So Much To Answer For" Compilation)
(2) Say It Low / A Blaze Of Shame 7″ (1986)
(3) Cut A New Seam / A Knock For The Young 7″ (1984)
(4) Show Your Teeth / Messy Body Thrust 7″ (1984)
(5) Working And Shopping / The Work Ahead Of Us 7″ (1983)
(6) Peel Session March 21, 1984
(7) Peel Session Nov. 27, 1984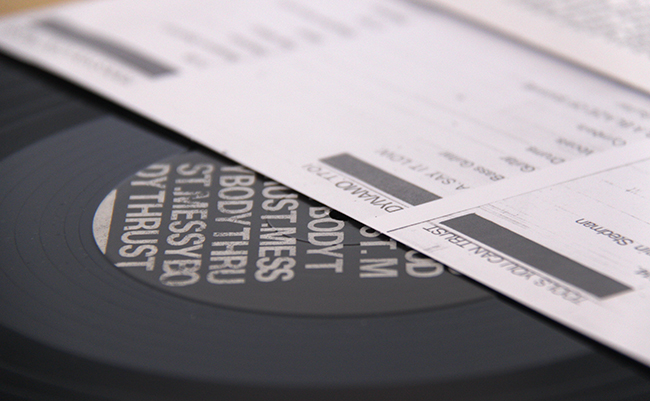 ………………………………………………………………………………………………………………………………………………….
Excelente post punk / industrial / no wave de esta menospreciada banda de Manchester. Creando música con una mezcla de percusiones de metal, batería, una guitarra minimalista y letras marcadamente políticas.
Tools you can trust venían del distrito de Hulme de Manchester y existieron durante unos pocos años a principios y mitad de los 80. El grupo lo componían esencialmene Stedmand y Ward aunque fueron participando otros miembros durante su historia, sobretodo para los directos.
Hicieron 3 Peel sessions y en este disco se incluyen algunas de las grabaciones de estas sesiones que nunca antes han sido editadas.
"Los alaridos hillbillies de Alan Vega transformados en un férreo y monocromo mantra cockney con la responden a la no-wave neoyorquina. Sin embargo ellos decían que venían de una tradición que habían empezado Link Wray o Duane Eddy Con algo así se adiestraban Tools You Can Trust, después de salir del trabajo. Ese espacio físico se notaba también en la musculatura de sus rígidas estructuras. Venían de Manchester y ellos llegaron antes que el baile a la escena de Manchester, sus canciones se bailan, pero dando manotazos.
Aquí se recogen sus primeros 7" descatalogados y temas inéditos de las Peel Sesions que nunca llegaron a ver la luz. Tras la ardua búsqueda de sus miembros por el staff de Burka aquí los tienen en todo su mecánico esplendor." Reseña de Elvis Von Doom
Remasterizado en el estudio Sountess / LP 180 gr / Código de descarga dentro del disco / Edición limitada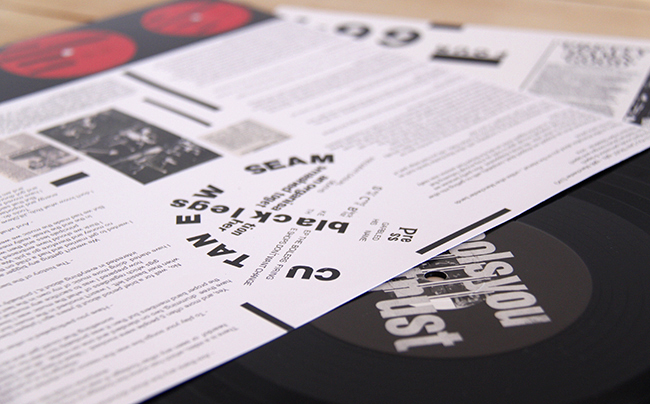 Interview to Ben Steadman. 2014
---
– There´s so few information from you in internet … not the same with other bands from manchester from the same years
Partly because when we stopped, we stopped dead, completely, with no getting into other bands or carrying on in other ways.  We simply disappeared.  Also partly because we hadn't done enough, especially enough gigs to build up a big enough following that would carry on for us and the biggest event we did, the filmed Peel session was really not very good.
– You appeared in a Manchester compilation with bands such as Smiths, Chameleons, the Fall, Buzzcocks, A Certain Ratio… were you part of any "scene" or were you "strangers" in your city?
To an extent yes we were strangers, Rob less than me, and this was not necessarily a good thing – although it was mostly because we didn't actually like much of the music and especially the lazy thinking, the lazy links to politics, the lazy assumptions of the alternative, lazy, slack and weak.  Also actually because we had a lot of humour which made a lot of the rubbish at the time incomprehensible to us – I think if we had met others with genuine talent and that ability to engage with wider concerns and laugh we could have been part of a 'scene' or at least had more friends/a better time.  People always seemed to have an impression of us as being a bit of a couple of miserable bastards when in fact we were actually really nice.
– Your sound and the letters of the songs shows you had an angry and political message to say
Passionate rather than merely angry and definitely political.  Am still very interested in politics and sad to grow old with the same old crap again and again and again.
– Also in the art of the covers I see influences of the dadaism and early russian art from people like El Lissitzky, Maiakovsky ..
Rob was knowledgeable about art and got me more interested – and yes like many at the time we were interested in Mayakovsty, Rodchenko, Tatlin and the constructivists.  The futurists were also good for a laugh.  Not so funny of course for the people who suffered the realities of their pompousity.  Not really Dada, or surrealism though, we always felt we were very down to earth, not sure that anyone else agreed.
– You did also 3 peel sessions , but they never appeared in any record right?
I think that one song, a version of Working and Shopping did appear on a record.
– The first record is a live one, so I can imagine the live was an important part of the band
Well the live album was the first 'LP' but that was really because we were very slow with coming up with new songs and felt that we had some great sounds to put out there.  Live was actually very difficult as for ages we didn't have a settled line up.  I loved playing live, more than anything really, and was always frustrated that we were not as good as we could have been and didn't do many gigs – also probably frustrated that we didn't have dance routines, stage sets etc.  The travelling and the waiting around were very boring. We were sometimes brilliant, sometimes very strange and always genuinely nervous and wanting to give a good show.  The nerves sometimes didn't help, I remember doing a gig at the Hacienda and getting through 12 songs in 12 minutes because we played them so fast as we were so excited/nervous. Rob was great live.  If we had had loads of money I would probably have been pushing us to be more Busby Berkeley than Bethold Brecht.
– Are there live show documents, videos, etc?
There is a video, which has some live footage in it but I have never heard of or seen any other footage.  It was a long time ago before everyone could film everything.
– To play your songs live was the reason you started as a duo and change to a 4 people band?
Yes, and more often 5 people were involved.  I liked it best with 5 so we could have three drumming, two on standard and one on metal.  Jill and Steve became the proper band members but then it was probably too late for us to evolve into something that could get and do loads of gigs.
– Have you been in other musical projects?
No,  well for a brief period about 8 years ago I played bass for a friend's band when their bassist left.  I wasn't involved in the music but we did do a couple of gigs which regardless of what the music was I loved doing – terrible really how prepared I was to sacrifice any musical principals to get on stage. I have started doing more music of my own in the last ten years and am still really interested in everything about it, I probably write music at the rate of two bars a year.
– The history of the band was short, why did you split?
We weren't getting any bigger and this was causing stress and strain, I wanted to get married and had a child on the way so was less interested in having no money and therefore go a job. We didn't really know what direction to go in, I think we should have embraced being down to earth more and some of our principals less and then we might have got some cash and carried on. In the end the break really meant the end of friendships as well as the band.  But we had made the music we were meant to make.  Music that is very, very good.
– And what about the present, what do you do now? and Rob?
I don't know what Rob, Jill, Steve or any of the others who were variously involved in the Tools do.  Me and Rob really don't get on at all, I think that it is the energy and importance we both felt for the Tools have turned into bad feeling.  But that said I can't be bothered to go back and don't really give a fuck.  I have moved around the country a bit, have a very normal job, have married and got divorced, have four great boys and am actually now affianced again and am thinking that I might be very happy for at least a few years ahead with my love and also that I might do some music.